Why did you decide to volunteer abroad with DWC in India?
Quinn: DWC is a non-profit organization from my hometown of Kamloops, BC, Canada. The organization recruits volunteers to travel abroad and participate in sustainable projects that have been organized and lead by host partners all over the world in developing countries. I had heard about the organization from one of my close friends who had been on a few trips and even lead her own volunteer group abroad. She had only positive things to say, so I signed up for a trip she was leading to Cambodia. I was hooked! I then decided to co-lead my own trip with my younger sister, and after much debate we chose India. The host organization, whose project we worked on, was Youth Touch.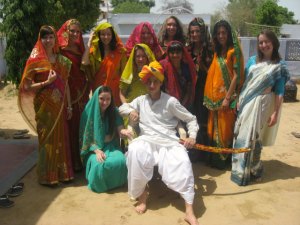 What made this volunteer abroad experience unique and special?
Quinn: I've been on 2 volunteer experiences abroad, and what made our trip to India unique and special in my opinion, was the immersion in the culture that we experienced. During our mid-day break from work, the leader of Youth Touch would engage our group in activities that familiarized us with the history and current way of life in India. We dressed up in traditional clothing, learned how to cook our favorite dishes, and were given lessons on the social traditions, geography, religion and language. When we left India after the 5 weeks we all agreed that we left with a very good understanding of the region and culture, which I feel is a very important and respectful part of visiting a country you are trying to make a positive change in.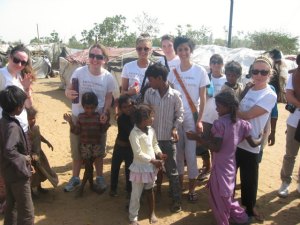 Tell us about one person you met.
Quinn: Countless children that we met during our time in India, especially those who we were building the children's home for, really left an impact on all of the trip members. Whenever we were tired or overheated while working to construct the building, we reminded each other of the potential impact of the home and gave our best efforts.
One person in particular who left a lasting impression on our group was Madan, the Youth Touch leader in Sikar, whose home we stayed in over the five weeks. He is perhaps the kindest person I have ever met. He was quiet and didn't speak often, but everything he had to say was meaningful and full of wisdom. He offers his home year round to volunteers coming to teach English to the impoverished children in the area on behalf of Youth Touch. We were the first group who were helping primarily via labour, since the children's home was just getting underway before we arrived.
Madan is particularly admirable since he left his finance job to dedicate the remainder of his life to looking out for the children of Banjara Basti. I believe a great deal of the success of the trip was due to Madan. I hope to one day go back to India and visit him and his family.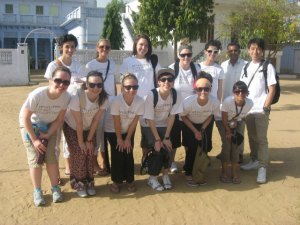 Do you feel like you made a significant impact on the local community? Why or why not?
Quinn: Yes I believe we did. Before starting construction on the children's home, Madan spoke to our group about Youth Touch, the project we were helping with, and the goals of the children's home. Once completed, the home would one day allow ~80 students from the poor slums of Sikar to live, study and be cared for in an environment that would accommodate their learning and development.
The educated young adults would be candidates for well-paying government jobs and would be able to support their families still living in the slums, thus breaking the cycle of poverty. Madan and myself set realistic expectations for our group. The building would one day be three stories, and we were only in India for 5 weeks! The project would not be completed, or even significantly so during our trip, but we were still making a difference. Since we were providing general labour and there were carpenters and masons on site directing the construction, we mainly helped by moving rocks and other building supplies from piles into the foundation. The children's home is now completed one year later!
Has your worldview changed as a result of your trip?
Quinn: Certainly. I believe that in first world countries it is easy to forget about the daily hardships that some people must endure and how lucky many of us are to never worry about food, shelter, etc.; the necessities. That being said, during both of my experiences volunteering abroad, I am always amazed at the strength and resilience of those we are offering our help to. It is truly humbling. I am always reminded that happiness is much more than material items and instead found in human interactions and bonds when I visit these areas.