Why did you decide to volunteer with GLA in India?
Kira: In all honesty, I ultimately chose GLA because of the scholarship that they offered me. I was looking at either Lifeworks International or GLA at the time. Lifeworks also presents itself as a wonderful organization--in fact our group ran into theirs twice in Dharamsala! I was given an $1,000 scholarship to help with the costs. For those that don't have the funds readily available, it is possible to go! No--$1,000 will not cover everything else, but fundraising is very important and the scholarship helps.
The other important factor was that my parents were comfortable with the program. They seemed organized from the outside and provided information that gave parents a sense of security (something important when they're allowing their teen to venture across the globe).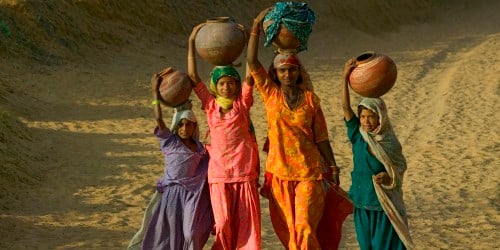 Describe your day to day activities as a volunteer.
Kira: As a volunteer, unfortunately parts of my trip were disappointing. Originally we were supposed to spend one week in a village, one week with an environmental conservation organization, and one last week with an organization in Delhi's slums. The third week's organization fell through on their side, and thus were removed from the itinerary. We wound up spending more time than planned in Dharamsala, and less time than planned volunteering--that was a real bummer.
However, as a pilot program, much of it was impressive. The volunteer opportunity in Kerari (the rural village community) was incredible. Some people worked the fields, others built a house, some were personal assistants to some of the village women, helping with household chores, and other worked with children. I had the wonderful experience of spending time with the children as we ran an English based "summer camp" as you could call it. While we were the volunteers, the children taught us far more, and what we learned were invaluable lessons. I'll let you experience them for yourself, rather than attempt to explain them. The intentions of this volunteer work was to establish a relationship with this village. They have expressed a desire for some connections to this Indian-based organization, with global volunteers. In future years volunteers are likely to assist with perhaps one solid project appointed for that trip.
Volunteer work was also done with Mountain Cleaners of Himachel Pradesh (in Dharamsala). This nonprofit is run by an amazing woman named Jodie Underhill, and she is attempting to establish a recycling and conservation system throughout the region of Himachel Pradesh, but truly India at large. She is an ambitious campaigner for the welfare of India's natural resources, infrastructure, and people. I hope future groups will have a chance to work with her. We did some mountain cleaning ourselves, hosted a children's day, and helped her with some preparation for the cleaning of a holy site tarnished with trash.
I believe the structure for the volunteer work in future programs is highly subject to change, but those were my experiences.
What made this volunteer experience unique and special?
Kira: Getting the chance to learn about a culture that is so significant on the world stage creates a unique insight that you will only understand if you go there an meet the people. As Americans, or westerners in general, the understanding of a culture that encompasses more than 1 billion people on our planet is invaluable. India is a huge part of our future, and we would be wise to understand it.
Here's a cliche: the people you meet will be a part of you forever--both volunteers and citizens, those you like and those you do not. Some of the friends I made I hope will be part of the rest of my life. These people do not just hop a plain and exit you world. One of the friends I made is visiting me in a month, and I plan to see another over Thanksgiving. I consider them some of my closest friends.
How has this experience helped you grow personally and professionally?
Kira: I chose my career path based on this trip. While I have been playing with many options, I have concluded that my time would be best spent as an anthropologist. Ironically, sometimes the type of volunteer work that we choose to do, as well as other contacts we make with nonwestern peoples, threatens the cultures and histories of those that we touch. In short, I would like to part of the force that helps to preserve these vital components of our world.