Why did you decide to volunteer with Global Volunteers in Vietnam?
Barbara: I have served with Global Volunteers previously - as a team leader and volunteer - and they are known for their quality programs. I had never been to Vietnam before and I wanted to refresh my perspective on this country that was quite significant during my college years. The friendly, forward-looking people, the vibrant street life, the serene countryside all touched my heart.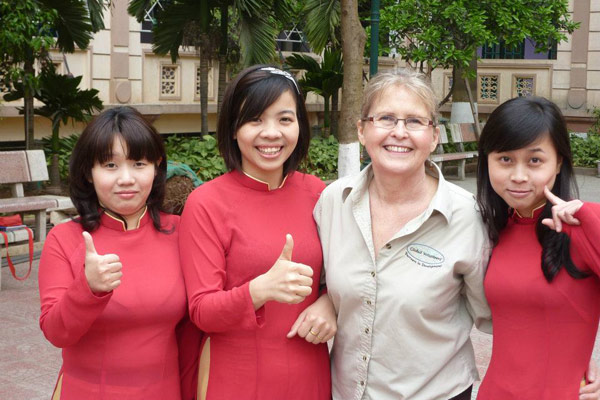 Describe your day to day activities as a volunteer.
Barbara: We started with a team meeting after breakfast, then off to the Nguyen Binh Khiem (NBK) private school where we helped in the elementary classrooms, assisting children with their English skills. Lunch with teachers at school, then assisting in afternoon classes. Free time later in the afternoon to explore Hanoi and rest. Team dinner & meeting.
What made this experience unique and special?
Barbara: Global Volunteers works only at the invitation and under the direction of the local host community and hand in hand with local people. We send several teams a year to the same site and each team builds on the work of the previous team. In Hanoi, we were impressed with the global awareness of the students and teachers and their eagerness to improve their English skills and become global citizens. We truly felt welcomed and that we were part of a larger process building mutual understanding and forging the foundations for peace.
How has this experience helped you grow personally and professionally?
Barbara: It has fueled a growing interest in Southeast Asia and I would like to return and explore other areas of Vietnam, as well as Hanoi.