Why did you decide to volunteer abroad with Global Volunteers in Greece?
Mary: The philosophy of the 27-year-old Global Volunteers organization is important and unique: volunteers only serve at the request of a host community, and work at the direction of that community's local leaders. The work is never a case of doing good FOR someone, but doing good WITH someone.
In Crete, the mayor of the city Heraklion (Crete's capital city) had asked if Global Volunteers might help with a summer school the city wanted to set up to help kids develop their English-speaking skills. Greek children have to pass an English proficiency test to get into college, but the public schools can't offer enough, and Greece's poor economy makes it impossible for many parents to afford the tutors or private schools that might help. So Global Volunteers sends teams all summer to help students from develop and maintain their English-speaking skills. This summer teaching experience seemed like a good fit for our family.
We chose Crete, not only because it fit with our schedule, but also because it was an intermediate step between American and third-world cultures (where Global Volunteers also maintains a presence). We weren't quite sure we were ready for a work project in a poor rural African spot, but we felt very ready for this.
What made volunteering in Greece a unique and special experience?
Mary: One thing that made it special was doing it as a family. A 16-year-old doesn't necessarily want to spend more than two weeks traveling with her parents, but in this case it was all about service rather than merely touring. It was so rewarding to see our daughter take responsibility for her lesson plans, to engage with her students, and to interact with older members of our team. The maturity she showed was not just about her; it was the result of the program itself--how oriented and integrated we were by our country manager and how clearly the expectations had been laid out ahead of time.
A second thing was the opportunity to interact with and become part of the local community. We were not tourists (except on our free time on the weekend). For two weeks, we were immersed in Greek culture, even to the point of being invited to a pre-wedding party, where we took part in traditional Greek dance and learned what the Greeks mean by "feast!" We also experienced the difficulties the country is facing now: a taxi strike made it necessary for us to find our way around by metro, bus, and on foot. There couldn't have been a better way to learn about the culture!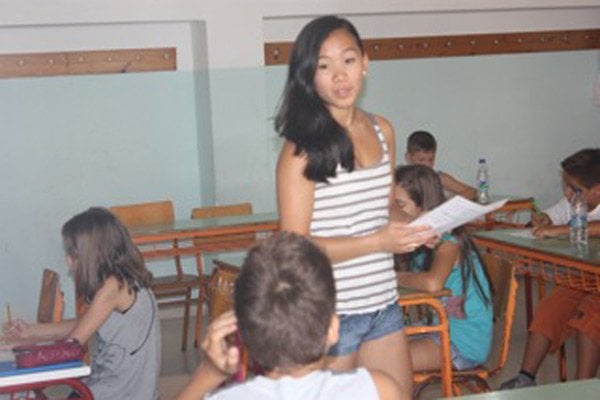 How has this experience impacted your future?
Mary: First of all, it made us want to do a trip again! This was an amazing experience and we'd love to do it again in one of the other countries that Global Volunteers serves.
It has also made our daughter--who is currently a junior in high school--determined to be a world traveler. As a result of this experience, she is truly excited about future opportunities to travel, study, and do service abroad.
Also, as baby boomers, my husband and I realize--thanks in large part to this trip--that our retirement years will be an amazing time to do service volunteering abroad. I can't think of any better way to see the world and contribute to it at the same time. It's a wonderful retirement option.