Why did you decide to volunteer abroad with Global Volunteers in Italy?
Margo: A friend heard a great review from someone who had been there before and we decided to go together. The chance to see a part of Italy I hadn't been to before and the opportunity to take a tax deduction were definitely draws.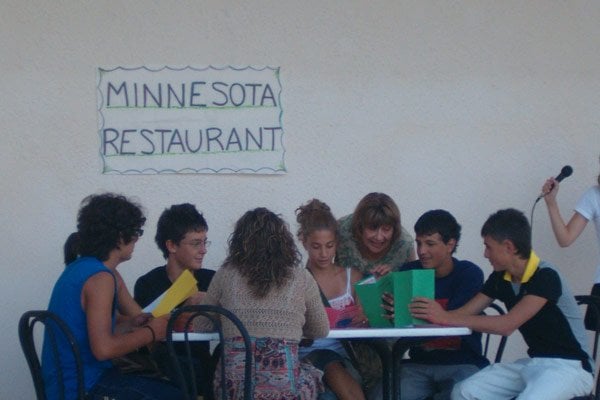 Describe your day to day activities as a volunteer.
Margo: We "worked" just in the mornings because it could get very hot midday. GV provided some materials for the instructors, and others brought their own. I used newspapers with my adult students. I and others took the students around town, to stores or to places of interest. Several days our group coordinator took us out to lunch at different types of restaurants: trattoria, pizzeria, etc. Our afternoons were free—for a siesta, to shop, sightsee, or just lounge at the hotel's pool.
On the weekend, we were free to sight-see (on our own—this was not done by the coordinator). We went to the market in town early Saturday morning—just fabulous fruits, vegetables, flowers! Further afield, we went to Lecce, shopped and checked out the Roman amphitheater there. We also visited the town of Alberobello, which has some delightful little houses with conical roofs called trulli.
The hotel was lovely, the food at the hotel or in restaurants was wonderful. All the people we met were great. There was a dinner at the home of one of the Italian teachers—with singing, of course: all Italians sing.
How has this experience impacted your future?
Margo: It was very rewarding. I thoroughly enjoyed conversations with my two adult students. My friend Sheila had just one student: a 65-yr-old woman who had never learned another language. Sheila found it to be slow going, but ultimately very heart warming.