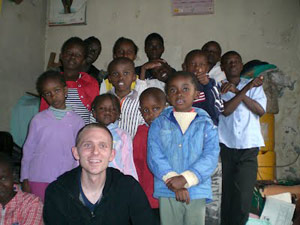 Why did you decide to volunteer abroad with Volunteering Solutions in Kenya and India?
Jake: Here in America, I work in education reform and my every day work involves making sure that every student in American, regardless of race or background, receives a quality education. Unfortunately, there is a huge divide in America among white and black students. I am working to close that gap here and assure everyone receives the education they deserve. I feel as if my work is a service to both my country and the fight for equality.
This work has led me to want to help out beyond my country's borders. While a lot of disparity and inequality exists here in the USA, it also exists in many countries around the world. I chose to volunteer in Kenya and India (and soon Vietnam) because I want to give back and make some sort of impact--no matter how big or small. I have a passion for travel and learning about other cultures, and I am able to bridge that passion with my passion to make this world a better place by volunteering abroad. I think I will continue visiting other countries and volunteering for the rest of my life.
Describe your day to day activities as a volunteer.
Jake: For a detailed account, check out the Journal I kept during my visit.
What made this volunteer abroad experience unique and special?
Jake: Kenya and India are very different places, but both are places where the people are very warm and welcoming, and unfortunately, a need exists for an increase in the quality of life and education of its citizens. Kenya was unique because there is a strong sense of community and a deep warmth to people. The people of Kenya work extremely hard and are really dedicated to making their life, and often those around them, better and prosperous. India is a very busy place full of people who are excited to see you there. People from many backgrounds and religions live in India, and are very open to visitors. I enjoyed working with children in a street shelter and helping them with math and other gateway skills they needed support with. Indians are very peaceful and who are always on the go.
How has this experience impacted your future? (Personally, professionally, etc)
Jake: I continue to want to make the world a better place, both in my home and abroad. My experience volunteering has really opened up my eyes to the immense amount of need in other countries, and has really grounded me in knowing how much privilege I have and how important it is to both give back and not take things for granted. Now that my eyes are open, I can work to help open other eyes and make sure I continue to be part of the solution.