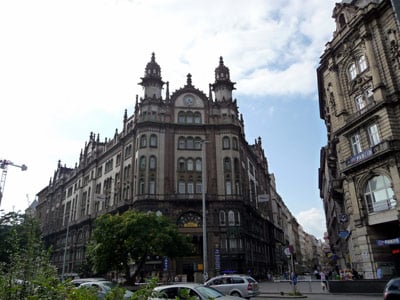 Why did you decide to volunteer with Global Volunteers in Hungary?
Eileen: Before I retired, I lined up several activities and participated in some trainings, so that when I retired I would not be sitting in a rocking chair on the porch. I sent for information from several volunteer vacation organizations (those featured in my NEA Retired magazine) I started getting e-mails and phone calls, but I chose Global Volunteers for two reasons:
1.) You stay in a hotel, not in a home- I was not sure I was up to roughing it and did not care for the lack of privacy this would entail.
2.) Global Volunteers did not insist that I go for training first. As an experienced educator, I felt I did not need formal training for such a short stay.
I chose Hungary, because it was a country I had never visited. When I had visited Europe, it was still behind the Iron Curtain. Also, I figured my lack of local language skills would be less of a handicap there as I doubted many foreigners would have a grasp of their language-while many more might speak Italian or Spanish, etc. I fell in love with the description in the Global Volunteers literature.
Describe your day to day activities as a volunteer.
Eileen: Our daily routine usually included several hours in the classroom. There were no English classes in "our school" on Fridays as all three teachers were taking classes on Friday at the nearby university. So on Fridays, we went to a nearby grammar school and worked one on one with students about to take their exams to enter university. We worked on their conversational skills. Monday-Thursdays we were assigned to an elementary scool and there we played games, taught songs, etc that might teach vocabulary to the children. Occasionally, we taught the "regular" lesson from their textbooks.
After school, I had the opportunity to work with some adults who wanted to improve their English. We were done at school early enough to allow afternoon excursions to local museums, the local pottery, the local embroidery shop, etc. On weekends, we arranged longer trips to nearby towns. We walked all over the city-to our schools, to museums, to restaurants, to city hall, etc. We frequently ran into our students and their parents.
I should mention that the food was outstanding and the quantity was unbelievable. Dining out must be a real luxury for Hungarians. Some evenings we were the only patrons in the restaurant. So there is a real attempt to make sure the helpings are ENORMOUS. We had two entrees at every meal. We visited the local farmer's market and the produce was also large. Hungary must have been a real agricultural find for the countries in the Soviet bloc. We visited a local museum devoted to the Soviet era and a local official guided us through it and shared his experiences as a boy growing up in a communist country.
This is a town that gets very few tourists, so we were on our own to communicate in the post office, the bank, the bakery, etc. Older Hungarians did not study English in school. For years, the required second language was Russian. But if we could find a teen, we could find someone who spoke English. I think I saw a very different Hungary than friends, who visited Budapest as a tourist.
How has this experience helped you grow personally and professionally?
Eileen: I think such an experience makes you very appreciative of home, but it also makes you more aware and increases your understanding of other cultures.
A regular tourist would not have this type of experience. We also visited the local synagogue which has a Holocaust museum that features the pictures of the local Jewish child victims. It was very moving! Our hotel was located in the part of town where the Jews lived prior to WWII.