Why did you decide to volunteer with Projects Abroad in Moldova?
Kerri: I was first introduced to Projects Abroad at an international study/work abroad fair that was held at my university. At the time, an urge to travel and explore a new country was developing in me. I wasn't too sure what I wanted to do abroad or where I wanted to go but I just felt like going somewhere, so I picked up a handful of brochures. I wanted to do something more than just visit a country for vacation and do all the tourist attractions; I wanted to immerse myself in the culture and to contribute something to the country so volunteering was the best option for me.
I read through the Projects Abroad brochure and based on cost, administrative support, dates when I could volunteer, and programs offered, Projects Abroad was the most appealing. I had never heard of Moldova before, and thinking about going to a country that I knew nothing about was exciting to me. I guess I could say that choosing Moldova out of all the countries that were offered was a relatively random choice, but it was one of the best decisions I have ever made.
Describe your day to day activities as a volunteer.
Kerri: I spent the first month in the city of Chișinău doing a medical project and I stayed with a Russian host family. I spent my time visiting various hospitals and observing different procedures and surgeries. Depending on the complexity of the procedure I was observing, the doctors would ask me to lend a helping hand sometimes. I was amazed at the sights I saw, from facial surgeries to total body burns and learning about the medical care in Moldova was eye-opening.
I spent the next two months in the village of Vadul lui Vodă doing a care project and this time, I stayed with a Romanian host family who gave me a true traditional Moldovan experience. I spent my time at Motivaţie, a centre promoting independent living for people with disabilities where I helped with wheelchair sports programs. Basketball and tennis practices were held everyday at a nearby gym and I would help the individuals travel to the gym and facilitate their practices. I would also help at the centre with cleaning and general house-keeping tasks.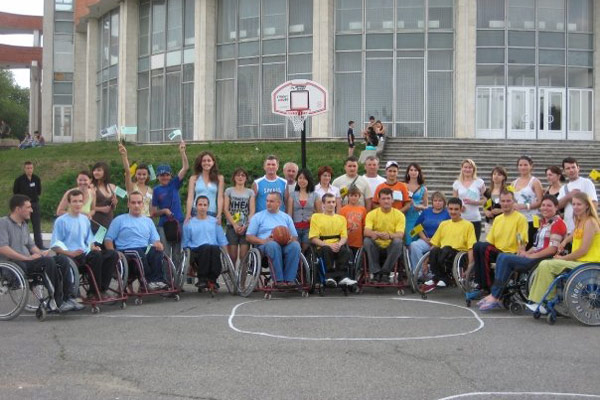 How has this experience helped you grow personally and professionally?
Kerri: This experience was one of the most memorable experiences in my life so far. To be able to immerse myself in an entirely different culture allowed me to grow as a person. I learned to be independent, resourceful, and much more open-minded. Moldova showed me the importance of family and friends and the value in taking the time to enjoy what life has to offer.
My time at Motivaţie also led me to pursue a career in physiotherapy. Spending time with the individuals with disabilities and seeing what they could do with the body functions that they had was truly inspiring and fascinating and I developed an interest in spinal cord rehabilitation. I am now finishing my last year of a Master's in Physiotherapy degree program and loving everything that I am learning.