Why did you decide to volunteer with OTZMA in Israel?
Lauren: Throughout my college years, I knew I wanted the year after graduation to be spent in Israel. I researched a variety of programs and, for me, OTZMA was the best fit. I wanted to solidify the conversational Hebrew I took during my undergraduate studies. I wanted to spend significant time in Israel so the shorter, 5-month programs were not the right fit. I was looking for an experience in which I could truly live Israel beyond the tour bus and I felt that living in an absorption center, in the periphery, and doing volunteer work was a wonderful way to feel a part of Israeli society rather than a tourist.
I also loved the option of doing an internship for the last 3 months of the program; while I never viewed my year in Israel as a "year off", doing an internship would ensure that I get the experience needed to return to the US prepared to look for jobs. I was on OTZMA 19; the history of the program, the reputation, and my conversations with alumni assured me that I had chosen the program that was right for me.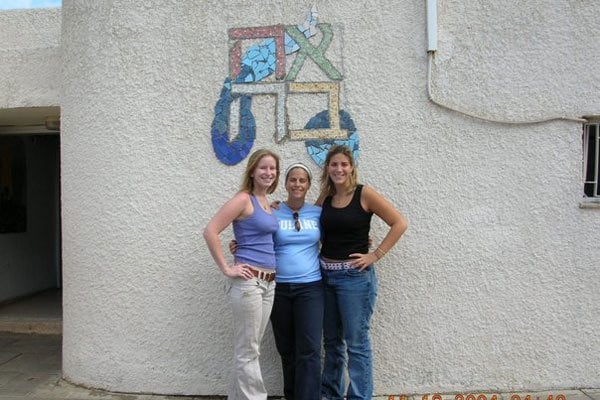 What made this experience unique and special?
Robin: OTZMA always says that the program is what you make of it - I can't stress that enough. I loved OTZMA because it provided a support system and programmatic outline that gave me some structure while simultaneously allowing me to mold the program to my strengths and skills. Living outside of central Israel meant that fewer people spoke English. As such, living in Ashkelon for the first 3 months of the program, allowed me to take my ulpan classes and then put my new Hebrew vocabulary to use as I walked the streets, volunteered, spoke with the new immigrants living in the absorption center. I really used my structured time provided by OTZMA as a stepping stone for my free time and how I could apply all that I was learning.
In the second part of the program, I lived in Yokneam. Our local coordinator met with us before moving to the program and told us all the needs of the community: schools that needed English tutors, sports clubs that needed coaches, a green house and petting zoo used as therapy that needed tending too, etc. I was excited by the variety of opportunities. I chose several of them while also requesting that my local coordinator find a way for me to teach swimming; I was on the Brandeis University swim team and had been teaching swimming since age 15 so I knew this was a great skill I could provide. So, again, I found a way to provide the community with its needs while also speaking to my strengths.
My third and final section of the program was spent in Jerusalem. It was nice to be in a big city after 6 months of living in small towns. My Hebrew felt strong and I was ready for an internship. I worked with the OTZMA staff and we found a great fit at MASA. MASA was launching its first year of offering scholarships and I was able to do research for the program as it started up. Likewise, I had the unique experience of being the master of ceremonies for the MASA launching gala event. I met then Prime Minister Ariel Sharon, invited David Broza to the stage, and celebrated this wonderful organization that would help many others, like me, find programs that fit their needs and receive financial assistance for participating in these programs. My internship was real, meaningful, and something that led to future job opportunities in and out of Israel. OTZMA provided housing, the three-track model, the education days, the Hebrew teachers, and much more. I took OTZMA and made it mine.
How has this experience impacted your future?
Robin: After OTZMA I was hired by the North American office of OTZMA at Jewish Federations of North America, as the Recruitment Manager. My experiences on OTZMA created the passion I needed to express to others considering the program. My job at JFNA led to several more years of working in the Jewish world. After 3 years of living in New York and working at JFNA, I moved to Israel and earned my MA degree in Middle Eastern Studies. Upon completion of my degree, I was looking for a job in Israel and found that the people I had met on OTZMA, the skills I garnered, and my comfort in Israel gave me the confidence to apply and get a great job at the University of Haifa. In short, my time on OTZMA has had a profound impact on my professional life.
Personally, OTZMA taught me leadership skills and how to make the most of every situation. I also have lifelong friends from my time on OTZMA. I am in touch with many of the alumni from my year as well as years to follow since I recruited the following years. My closest core group of friends is from my year on OTZMA.