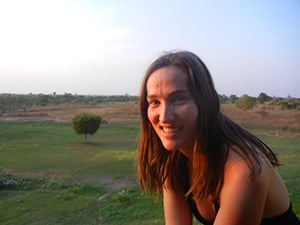 Highlights: OTZMA was such a meaningful and varied experience in my life that it is impossible to choose just one or two highlights. I learned what my passions were when money was taken out of the equation. I learned and worked in a new language. I stood beneath waterfalls, hiked for days through the desert, swam in the Dead Sea, and danced all night at a party inside a deep desert crater. I lived for a month in Jerusalem, a city of such political, historical, and spiritual significance. That city has a palpable soul that never ceased to affect me, and make me feel more alive. I was immersed in a culture that is warm and embracing. I got informally adopted by an Israeli family, and made incredible friends. I got to experience ten months of consciously thinking beyond myself, and helping however I could. This has an immense impact on happiness.
I signed up for OTZMA at a crossroads in my life. A recent college graduate, I had prepared for a career in Finance, yet when I went to my NYC interviews at investment companies, my stomach tied itself into millions of knots screaming, "NOOOOOOO!!!". My time in Israel gave me the confidence, experience, and self-knowledge to take a different path, and that has made all the difference.
Morning: A typical morning in Ashkelon: Mornings in Ashkelon were all about language learning. We had about four hours of 'Hebrew Ulpan' each morning, and these were held at the immigrant absorption center where we stayed, so it was a treat to roll out of bed, make some breakfast, and already be at class. After three months, coming in with zero Hebrew, minus the ability to sound out words, and sing the alphabet, I became proficient enough to work with kids who only spoke Hebrew. The teachers were fantastic and taught us about Israeli history and culture while teaching the language. After class, I almost always managed to squeeze in an hour of beach time (we lived just a ten minute walk from the Mediterranean) before an afternoon of volunteering.
Afternoon: My schedule in Afula was full and wonderful. Since there were few volunteers in the region, and more need there than in many areas of the country, the three of us in Afula had endless opportunities to get involved. Most afternoons I went to a school created for kids with Cerebral Palsy, and helped run their therapeutic art program. A couple times a week, I accompanied them to a therapeutic horseback riding program which was incredibly successful. Several of the children I met could not sit up on their own prior to the horse riding, but the horses motivated them, and riding requires core strength. After several months they gained the strength to sit upright, and received much joy from their time with the animals.
Evening: In Ranana, I had two internships with OTZMA: one doing research and writing articles at the International Institute for Counter-terrorism, and another working with the Yoga Teacher's Society of Israel. The two experiences really balanced each other out! In the evenings, my friends and I would get home around the same time, then go into town for dinner, cook together, hang out with others in our building, or go to the nearest beach for sunset. There is a great sense of community within this program, and within Israel as a whole.