Why did you decide to volunteer abroad with Dyer Island Conservation Trust?
Tami: Ever since I was a child, I was fascinated with marine life, particularly sharks. Volunteering with DICT for the shark program was a once-in-a-lifetime opportunity to indulge in my passion. My love of white sharks has only grown now that I have spent time with them in their natural environment. I have come to South Africa every year for four years now. I simply can't get enough!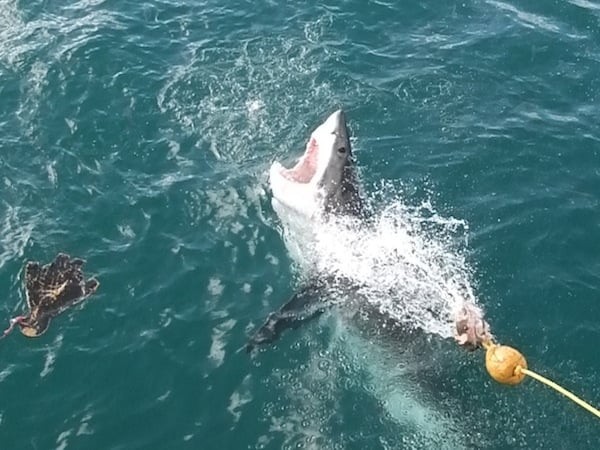 Describe your day to day activities as a volunteer?
Tami: Weather permitting, volunteers go out on the cage-diving boat daily. Duties include greeting clients, organizing wetsuits, helping people get in and out of the cage, chumming, keeping data sheets of the different sharks seen, photo identification of the shark's dorsal fin, cleaning, and various other assignments as they come up. Depending on the research currently going on, volunteers may also go to sea on Lwazi, the research vessel. Lwazi is a much smaller boat and is used for tagging and tracking sharks. If we are tracking, volunteers are expected to manually track a shark with a hydrophone, record research data such as GPS coordinates, water temperature, depth, etc.
One thing I love about this volunteer program is that I learn something new every time I visit. There is always new research, new theories, etc. and I love being a part of such a dynamic organization.
What made this volunteer abroad experience unique and special?
Tami: Marine Dynamics has a team of 5 marine biologists on staff. Any time I have questions, one of them is there to help me understand. Also, the program is all about what you make of it. I wanted to be more involved and the staff has been wonderful about giving me additional assignments and work.
How has this experience impacted your future?
Tami: Personally, I got to spend hundreds of hours at sea with white sharks. I can't think of any better way to spend my day! Professionally, I just finished my Master's in Business and I incorporated many of the lessons I learned in South Africa into different projects for my degree. The experience has also allowed me to speak with many civic organizations back home which has led to some great connections within my community.