Why did you decide to volunteer with VIDA in Guatemala?
Brooklyn: I decided to volunteer with VIDA because I wanted my spring break to be a learning experience. VIDA was a wonderful opportunity, in more ways than one. As a pre-med student, the medical experience was invaluable. I am also a Hispanic Studies major, so it was amazing to be able to use and grow my Spanish skills with patients, and to learn about another culture. Most importantly, I wanted to contribute and volunteer in a way that really mattered.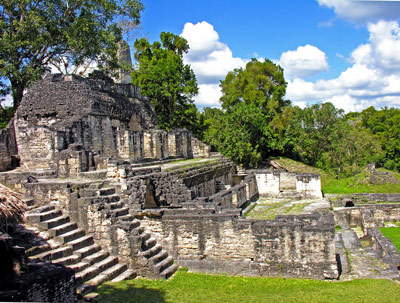 Describe your day to day activities as a volunteer.
Brooklyn: On clinic days, we ate breakfast as a group and then climbed into the vans to travel to the clinic sites. The views along the drive were always incredible. Upon arrival, we helped set up the pharmacy and split into groups to see patients. Usually, there were two volunteers and an interpreter in each group. Also, one pair of volunteers worked the pharmacy. By the end of the trip, we each had done one shift (morning or afternoon) in the pharmacy.
When seeing patients, volunteers started with asking and recording background information (name, age, etc.), and previously diagnosed medical conditions. Then the patients would describe all of their symptoms and concerns. After taking vitals, we would call in the doctor and make our report. After the first day, this usually included our diagnosis and choice of treatment. The doctor would agree, or further examine the patient and explain what we may have missed. After clinics, we had case discussions and then evenings off to explore.
What made this volunteer experience unique and special?
Brooklyn: This experience was unique because it combined volunteering and a bit of vacation. The activities on our two days off were fantastic. First we had a tour of Antigua, and then we ziplined near Lake Atitlan!
Furthermore, clinic days were almost more fun than our days off. Guatemalans are such friendly people, and they really appreciated the clinics. The kids go crazy for stickers!
Also, the VIDA staff was exceptional. I especially appreciated the doctors. They were very knowledgeable and happy to explain diagnoses and the pathophysiology of diseases.
How has this experience helped you grow personally and professionally?
Brooklyn: My experience with VIDA has made me eager for more. I am hoping to volunteer with them again before I graduate. In addition, it affirmed my desire to volunteer internationally after I become a doctor. Seeing the difference that we made...it's just so important to help if you can, in any way you can.