Why did you decide to volunteer abroad with YCI in Costa Rica?
Marta: I have always been dedicated to volunteering within my local community. I have volunteered with Big Brothers Big Sisters of Peel since 2006 and I participate in science outreach for children as part of the Let's Talk Science initiative. I am also involved in the Mississauga chapter of the Crohn's and Colitis Foundation of Canada and I volunteer on a weekly basis at Trillium Health Centre with the Hospital Elder Life Program. I was always interested in international volunteer opportunities, however, it was not until my close friend decided to complete an internship in Rwanda that I became serious about volunteering abroad. Although I was inspired by her choice, as a graduate student I knew I would have to find an opportunity that fit with my schedule. I had heard about YCI through my university's volunteer fair and I was keen to work with this reputable organization. The three week volunteer program in Santa Maria de Dota, Costa Rica that fell over the Christmas break felt like the perfect fit, not only because the time line worked with my school, but also because the program goals fit with my skills. I have been a teaching assistant and facilitator for various courses throughout my university education and I was excited to put the skills I developed through my work to use in leading language workshops.
Describe your day to day activities as a volunteer.
Marta: The best part of being a volunteer with YCI in Costa Rica was that the daily volunteer opportunities were so varied. Mornings began with a delicious breakfast, usually consisting of gallo pinto (rice and beans) at 7 am, then it was off to the first volunteer activity. Often we were given a choice of several different tasks to complete that would be helpful in the community. For example, restoring the classrooms of the high school with a fresh coat of paint, or sorting materials at the local recycling center. My personal favourite was helping out at the organic farm that is part of the high school, which allowed a city girl like me the opportunity to witness a calf being born and the chance to walk cows to prepare them for the upcoming agricultural fair. These morning activities were a great way for us volunteers to get to know the members of the community and to gain some insights into their daily lives. After lunch at 12 pm, it was time for us to prepare for our workshops.
Every afternoon, we held language workshops in English and French from Monday to Thursday and on Fridays we would host other skill building workshops, like First Aid and CPR. We put together the lesson plans for these workshops ourselves and each volunteer was able to use to put their talents to use. For example, I am a big talker so I often led the advanced conversational English workshops, which we decided to add to our schedule when we discovered the wide gap in English skills from beginner to almost fluent in the community. It was this ability to be flexible and respond to the needs of the community that made the workshops challenging yet rewarding. This is not to say that our workshops were always a success, for example, the Canadian volunteers sometimes faced a language barrier with our limited Spanish. Our group was very lucky to have a Costa Rican volunteer who could translate for us, however when we tried to lead a discussion based self-esteem workshop, the Canadian volunteers ended up unable to effectively participate.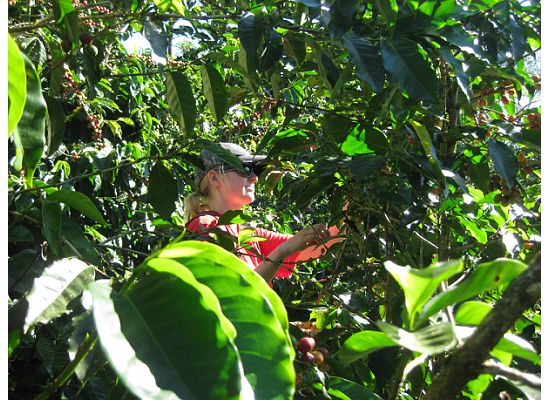 Finding out what worked and what didn't took some trial and error but in our final week we figured out a schedule that put to use our skills as volunteers and that was beneficial to the community. After the last workshop ended each day at 7:30 pm, it was time for dinner and then we had free time at night to read, watch movies or just go to bed early in anticipation of the next day! Volunteers have weekends off, and we used this time to explore Santa Maria, often going back to the catarata (waterfall), which proved to be a favourite for all the volunteers. We also did a weekend excursion to Manuel Antonio National Park, where we spent a few relaxing days on the beach and enjoyed the Pura Vida.
What made this volunteer abroad experience unique and special? What was the highlight of your trip?
Marta: For me, this volunteer abroad experience was unique because of the people, the other volunteers and the locals. As the oldest volunteer in our group, I was also worried about finding my place with the younger participants. However, my fears were unfounded and I left with a group of new friends as well as the nickname "nona" or "grandma", all in good fun of course. Our all female group consisted of other motivated and hard-working volunteers that I found easy to get along with regardless of age. The local community really embraced us, treating us with a lot of warmth. For example, the employees of the hardware store took the volunteers out to dinner as a thank you for helping with restoration and painting. This relationship with community was the highlight of the trip, which I really came to understand during the Canada themed party we held for the community after our last day of workshops. I wasn't always sure of the impact that we could have in the three weeks we spent in Santa Maria, but seeing the turnout at this party and hearing that people appreciated our efforts made all the difference. Of course, the delicious poutine and beaver tails we made to share with the community didn't hurt either!
How has this experience impacted your future?
Marta: Taking the plunge to volunteer abroad was a big step for me because I have Crohn's disease and I was worried about being able to manage my health while optimizing my contribution to the program. Luckily for the past year I had been enjoying relatively good health and so with the support of YCI and the encouragement of my friends and family, I decided to challenge myself by participating in the Costa Rica program. The experience has truly helped me appreciate that I do not have to be limited by my medical condition and it has motivated me to take advantage of those times that I am in remission to try new things. I think this will make an important impact on my future because in addition to the skills that I have acquired through the program like teamwork and leadership, I have also acquired a new perspective on all the things I am capable of doing. I may continue to face difficulties and barriers in my life, but I will nor longer be held back by my own self-doubt.