Why did you decide to volunteer with Love Volunteers in Nepal?
Lauren: I decided to volunteer abroad with Love Volunteers in Nepal after doing a huge amount of online research. I had always wanted to volunteer abroad, and was especially interested in Nepal. After looking at countless websites of organizations that charged thousands of dollars for fancy accommodation's and meals, with minimal volunteer work, I really wanted to look for someone a little smaller.
I randomly stumbled upon the Love Volunteers website and was immediately intrigued by the array of different programs, affordability, and the fact that they seem very personable and actually interested in helping communities that actually need it.
Describe your day to day activities as a volunteer.
Lauren: We stayed with a delightful host family that would wake us up with tea and Nepali treats. After getting organized and enjoying a delicious breakfast with the family we would venture down the the hostel that the Nepal Volunteers Council worked out of. We'd catch up with the other volunteers and they three guys that ran the organization.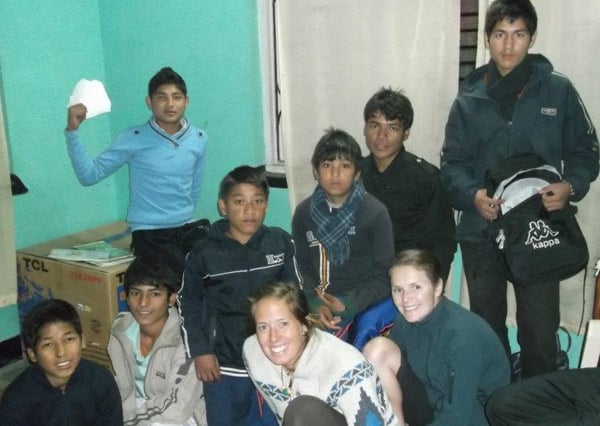 We didn't start work until 4 pm so we would then venture into Kathmandu with a couple other volunteers and really experience the city, with great recommendations from Keshab and the boys. When we got back at 4 we would go to the orphanage just in time to watch the 7 boys finish their soccer game. We would then gather in their house and plan the evenings activities. The boys were very well educated, and very curious about Canada and our lives back home. We would play trivia with them, practice spelling, showed them a few Canadian games, and they showed us Nepali games. We would literally sing and dance the night away some times. After we left them we would return to the host family for a delicious dinner of dal bhat, followed by socializing and games in the family room.
What made this volunteer experience unique and special?
Lauren: I found this volunteer experience to be unique in the way that we truly got to experience life in Nepal, and see what sort of help is really needed there. Love Volunteers placed us with the Nepal Volunteers Council that was run by an ex school principal, Kashab Acharya, who was very well educated on the school system in Nepal, and everything it branches out too. (Underprivileged children don't get the same education, typically orphans, who also need proper health care.) He has set out and covered all of those fields. It felt good working with someone who see's everyday what needs to be done in Nepal. Not from an office in North America. I was so happy to be placed with a local family as well, instead of a hotel. It was so interesting to see how regular Nepali people live they're life, and all of their cultural traditions.
How has this experience helped you grow personally and professionally?
Lauren: This experience has impacted my future in so many ways. I do plan on returning and working with this group again. My eyes were opened in so many ways. It was an obvious shock being in a third world asian country for the first time, but once we started working, and realizing things aren't much different (same same but different as they say there.) The boys we worked with were incredibly happy, healthy and so smart. They don't have much, as they really don't NEED much. It was so nice to see how just being in each others company made them light up. No video games necessary! I wish everyone could experience something like this at least once in their life. My eyes, heart and mind have been completely opened since this experience.