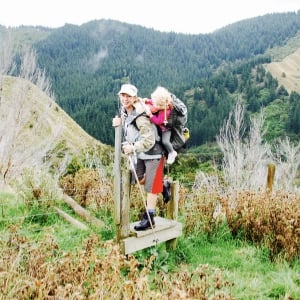 What is your favorite travel memory?
I vividly recall walking up the incredibly steep lanes in Hong Kong's Central District and taking in the sites, sounds and aromas of the street-side food markets, the apothecary shops with their baskets of dried fish, mushrooms and herbs and the chatter of the stall holders. It was an experience so deliciously authentic and remote from my daily life at home that it sent chills up my spine and still brings a smile to my face today. Stumbling upon these scenes of simple, everyday life are a treasure when travelling.
Which destination is most underrated? Conversely, which is most overrated?
For me Cambodia and Tunisia are two locations that are underrated by many and Thailand tends to not always live up to my expectations (this may be because here in New Zealand we have some stunning beaches that are pretty hard to beat).
I think it all comes down to expectations. I didn't know what to expect in Cambodia or Tunisia and therefore was pleasantly surprised by the friendliness of the people and the intriguing surroundings. Thailand on the other hand is so well touted that my expectations were overly high and I ended up being blasé about the beautiful scenery, helpful people and amazing food. I've learned to expect less and enjoy more!
What do you believe to be the biggest factor in being a successful company?
Service. Hands-down in any industry it's the degree to which you are able to meet and exceed a person's expectations that matters. By working with people and understanding their individual circumstances it's possible to make a better fit between person and 'product' - a better outcome for all involved.
Honesty plays a huge part in this. Being up-front and clear with people is so important in ensuring that expectations are aligned and avoids disappointment or mis-understandings.
How have you changed/grown since working for your current company?
Working for Love Volunteers has allowed me to empathize with first time travelers and their families. I'm able to understand their concerns first-hand having been in the same position myself when leaving home for my own gap-year and I can help to prepare them for what lies ahead - the challenges as well as the rewards.
Placing volunteers has also made me even more passionate about travel that recognizes the local people and truly sees inside a destination rather than merely skimming the surface.
What unique qualities does your company possess?
We're a small team dedicated to what we do. Each one of us has travelled and we know what we're talking about. We don't believe it's in anyone's best interest for us to have fancy offices or loads of staff. Instead we focus on what's important and work closely together to help each individual volunteer get the most out their placement. In this way we feel everyone benefits.
Describe a time when you felt especially proud to be part of your current team.
Every time I read a testimonial from someone who we have liaised with right from their very first inquiry; helping them to select the most suitable program, make the necessary arrangements and realize their dream of volunteering abroad. When I read their glowing praise for us, our partners and programs and how enamored and captivated they were with the local people and location I'm so proud that we played a small part in placing these amazing people straight into the places where they are needed the most.
What is the best story you've heard from a return student?
The best stories (and there are many) are from volunteers who admit that they were nervous about travelling and struggled initially to settle in and get used to their new surroundings....but who persevered and reaped the rewards; making life-long friendships with their hosts and fellow volunteers and feeling that they got so much more out of the experience than they gave. Who were so taken with the locals and the country that they intend to return again. One of the best things about these stories is that this volunteer will take their new-found outlook on life back to those at home and share this new perspective on what's really important.