Why did you decide to volunteer abroad with VIN in Nepal?
Sucheta: In November 2011, I went to attend a wedding in India and wanted to do some traveling in that region. Nepal is a country right next door to where I grew up but never had to opportunity to go to. I had seen pictures of temples and monasteries nestled in the mountains that looked very peaceful. One of the programs I was really interested in was staying and teaching at a Buddhist monastery. I found Volunteer Initiative Nepal online. They offer volunteers to stay with host families and take upon any of their projects from teaching, construction, women's empowerment to assisting a doctor at a health post.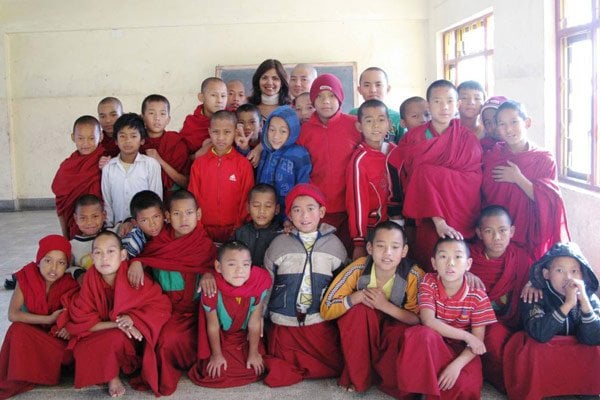 What made your volunteer abroad experience unique and special?
Sucheta: While working with VIN, I met volunteers who had come from all over the world (Australian, UK, Switzerland, US, Canada, etc). They were mostly in their 20's and had come all the way to Nepal for a period of 2 weeks – 6 months, away from their family and friends. The living situation in Nepal wasn't the most luxurious. For $6/ day you got a shared room at a farmer's home in the village, no hot showers, sporadic electricity and two modest meals. These volunteers lived like this for extended periods of time, worked hard in the community and did not once complain. On the other hand, they seemed so happy and closely knit with the locals. In fact, I would often see them in tears when they had to leave their host parents to return home. I was really touched by how giving these people were, and at such a young age.
How has this experience impacted your future?
Sucheta: This experience helped me personally look at my own life and to be grateful for all the things I have. I really missed my comfortable king size bed and 24-hour access to hot showers while I was in Nepal. I have traveled quite a bit but never felt so deprived. Yet I was surrounded by people who had even less than me at the time and did not seem to care. They enjoyed every moment of their waking lives and very so happy to have had the opportunity of being in the foothill of the Himalayas, have a loving family to host them and be able to make a difference in the lives of the villagers. I realized that no matter where we are, how much we have, we should always be grateful for it.