Tell us a little about yourself and your trip.
Eleanor: I was in Matagalpa, Nicaragua from June 22, 2010 to August 10, 2010. I am from Chicago. I am a senior in high school and I will be attending Carleton College in MN next year. My major is "undecided" at the moment but I want to continue studying Spanish, possibly along with other languages as well. In the future, I would like to stay involved with Amigos!
Why did you decide to volunteer with AMIOGS in Nicaragua?
Eleanor: It's kind of a funny story why I decided to volunteer with Amigos! My uncle was in the Peace Corps in Honduras and he mentioned this program, Amigos, that was almost like a mini Peace Corps for youth during the summer. It sounded really interesting to me, especially because I have always wanted to travel and I enjoyed my Spanish class. The next week, a teacher at my school was promoting Amigos and he showed a video that gave me a really clear idea of what I would be doing over the summer: promoting youth leadership, experiencing a new culture and sharing mine, and working on sustainable community development through projects chosen by community members. After I signed up for the program, there was extensive training for the summer with trainings every other Saturday with other volunteers from Chicago that included safety guidelines, how to raise resources, cultural sensitivity, communication, leadership, etc.
During training, we chose three to five projects that we would like to work in. Amigos currently has fourteen projects in the Domincan Republic, Perú, Nicaragua, Paraguay, Costa Rica, Panamá, México, and Ecuador. The Matagalpa, Nicaragua project looked great to me because it looked like I would get a great opportunity to work with youth and to promote ways to help the environment. I was very excited when the International Office assigned me to work in the Matagalpa project!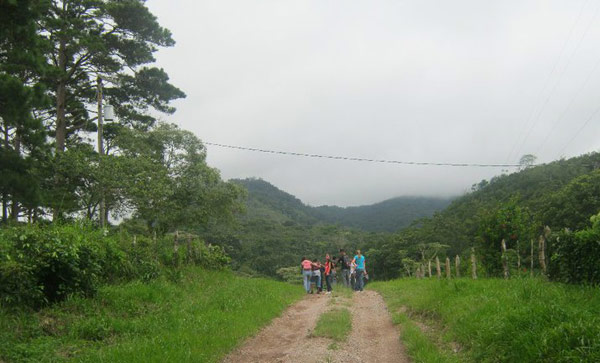 Describe your day to day activities as a volunteer.
Eleanor: Typical days vary depending on what time it is during the summer, but some basic things never changed. I always spent time with my host family, which consisted of an older host sister, Yara, a younger host sister, Roxana, a younger host brother, Junior, and host parents. They always made me feel very welcome. We ate "gallo pinto," (rice and beans) and tortilla for every meal, something I crave now that I am not in Nicaragua. My partner (a person that lives in the same community as you) and I often played a game of soccer with the kids.)
Also, for two hours every day, we did educational activities with elementary school students. These activities had weekly topics such as nutrition and reforestation. These topics were chosen by our partner agency, Care International, an organization that provides clean water for communities. Partner agencies are essential to Amigos because they choose communities, ensure they are safe, and are great resources for volunteers.
We also worked on our CBI, our community based initiative, often. This is a project that the community chooses that is sustainable and benefits lots of people. The entire community works on this, not just the volunteers, in fact, the community is often so involved in it that they continue working on it long after the volunteers leave. Ours was a small library for the school, so we worked on that by doing different things such as hosting a soccer tournament for students and eventually going into the city to buy materials. We had a couple of other projects, too, such as a mural and garden for vegetables. Of course, I had my moments of homesickness, but I genuinely really enjoyed my time in Nicaragua.
What made this volunteer experience unique and special?
Eleanor: One thing that really sets Amigos apart from most volunteer organizations is how involved the community is. I loved the ideas community members came up with as projects to do, ideas to fundraise, and how they became leaders, as well as me and my partner. The idea is not for Americans to come in and "help" the community, it is to give people an opportunity to become leaders and make a great change that will last a very long time.
Another great thing about Amigos is that you live with host families, so volunteers are really living the culture. It is complete immersion in Spanish, there are also places where indigenous languages are spoken, especially in Peru, Ecuador, and Paraguay projects. Sometimes, volunteers are placed with communities that are without electricity and other accommodations they might be used to. This definitely reminds volunteers why it's so important to appreciate things that they might take for granted.
How has this experience helped you grow personally and professionally?
Eleanor: Amigos has completely changed my life. It has changed how I approach problems, I have more confidence in myself because I know that with Amigos, nothing always goes exactly as planned, there are bumps in the road, but I know I can get through them. When it comes to problem solving, I think I am more creative because in Nicaragua we had limited resources. I also think of the big picture; I ask if a solution will just work for now or for a long time. I am now also a part of a group at my school that visits an elementary school and works with students who are native Spanish speakers. I realized that I really enjoy working with youth and teenagers because they really end up becoming leaders of their community.