Why did you decide to volunteer with Love Volunteers in Thailand?
Cristina: I decided to volunteer with them because one day I was searching for some organizations to apply and I entered in their web page, I don't know why but you can call it "sixth sense", but I felt confidence and harmony in them. And the name Love Volunteers captured my heart. Thailand was the place I always wanted to be since I was young so I made two dreams come true.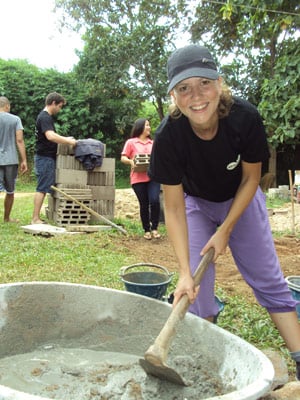 Describe your day to day activities as a volunteer.
Cristina: Well our day started normally at the same time, 8:30 am, at this time we had breakfast with all the volunteers and members of the organization, plan our day with them, and at 9:30 am we started working. I was in the outdoor programme and in my first week we went to help in a construction of a library. I learned a lot of things, especially how to do cement… it's not a easy job for sure. It requires a lot of strength but I wanted to help more than anything.
In the second week we went to help building a tank water for a Hill tribe. I got the experience to leave like them for a week. They received us very well and were very friendly all the time even without speaking a word in our language, we communicate by gestures. I had two amazing weeks in Thailand.
What advice do you have for future volunteers?
Cristina: To future volunteers all I want to say to them is to enjoy every moment, to share and live everything until the last minute, because once you are gone you are going to miss it every single day. Don't be afraid to take risks because is part of living a balanced life, and in the end is a test you do to yourself. I can tell you with 100% sure you will end this journey stronger than you came into it.
How has this experience helped you grow personally and professionally?
Cristina: This experience was amazing because I met a new world that was strange to me until now, that I only had seen from far away. I loved everything: the Thailand People, the other volunteers and the simplicity of living a simple moment that sometimes we forget in our lives.