Why did you decide to volunteer with Rustic Pathways in Cambodia?
Ben: Rustic Pathways came to my school and gave me a big catalog full of details on all of their trips. I decided that Cambodia seemed like a cool place, and it looked like the trip had time for some volunteer work and other time for more "touristy" activities. And the value is awesome for 2 whole weeks (and you get a discount for signing up early!)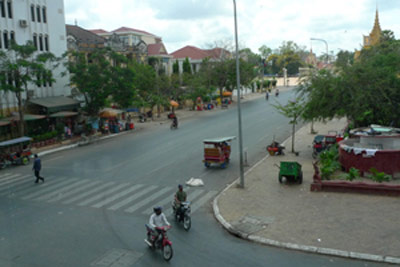 Describe your day to day activities as a volunteer.
Ben: At the orphanage we began the day by greeting the kids, then the Rustic Pathways group would get split into groups. Each group made a game or activity for the kids, most of them focusing on fun ways for the kids to learn and practice English. Afterwards we'd sit on a stage and read with the kids, or play one of their games. We also did some manual labor by wheeling some finer dirt to the area where the library was being built, put some plants by the stage, weeded a bit, moved rocks, and improving the look of the entrance of the orphanage -- the work isn't too difficult for anybody, so anyone can really enjoy and have a place in the volunteer work. The only bad part about it was standing in the heat and humidity! (But RP did provide plenty of water!)
How has this experience impacted your future?
Ben: I've known for quite awhile that I would want to work in some international industry (tourism, diplomacy, business, non-profit, it all sounds good to me!). Since going to Cambodia I've decided I'd like to major in Global Studies and emphasize in Asia (southeast to be even more specific if possible). Whether it's working at an orphanage or a business firm, I'd just like to be integrated in Asian culture somehow!