Why did you decide to volunteer abroad with Rustic Pathways in Cambodia?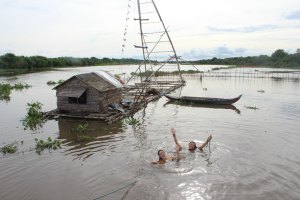 Julia: I volunteered abroad with Rustic Pathways in Cambodia because I had gone to Thailand with the same program the year before. Rustic Pathways is a high school travel program that has extremely close-knit connections all over the world.
I chose Cambodia because I have heard in the past that it is an amazing and life-changing country to visit. From the reputation that the people, country, and experience had from people I've known who went there, Cambodia definitely didn't disappoint.
If you had to pick one favorite moment of the trip which one would it be?
Julia: Throughout this trip, there are so many memories that will stay in my mind forever. But if I had to pick one favorite moment, it would be on about the 5th day in Cambodia. My group with Rustic Pathways and I were coming from the home we were staying at in the floating village heading over to a school to teach for the day. At the exact moment that we pulled up to the school, sitting on the roof of the boat, and everything seemed to slow down.
I remember looking out over all of the kids heading to school, chasing each other. I remember looking over my shoulder to see the motorboats in this village headed out for the day. The way of life in this floating village truly soaked in at that exact moment. They all lived in completely floating houses and many of them have probably never even seen a car.
To experience a society so different from anything I had ever expected or imagined in the past genuinely shocked me right at that instance. At that moment, I thought about how few people would ever be able to see this amazing and unique community in their lives. My favorite moment was filled with laughter from my friends on the boat along with the kids we were preparing to teach. This moment was an awakening that will stay with me forever.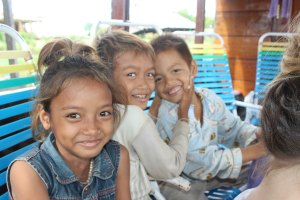 Tell me about one person you met.
Julia: One person that I met in Cambodia was a 9-year-old boy. His name was challenging to spell and pronounce, but his personality made a lasting impression. We called him Chun Rap; a shortened version of his name.
I first met him at his school, in which we painted on the first day in his floating village. He came up to my friend and I, laughing and trying to communicate with us. He didn't speak very much English, and we certainly didn't speak much Khmer.
Nonetheless, he offered out his hand to grab the paintbrush from me, and finished the whole windowpane I was working on. It may appear that I was letting him do all of the work for me, but trust me, he was very eager to help during the time he spent in the room. Shortly afterwards, Chun Rap displayed his interest in our cameras. He loved taking pictures of himself and being able to see them again on the screen.
Gathering his friends, they all burst into laughter when the group picture of them popped up onto the screen on the back. Throughout the week I spent in this floating village, Chun Rap left an everlasting impression on me. His charisma, laughter, and kind heart always left me in a better mood.
If children all around the world were as kind, caring, and funny as Chun Rap, along with many of the other village children, their characteristics would illuminate and surprise people endlessly.
What was the hardest or most challenging part of your experience?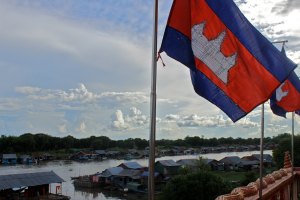 Julia: At the start of this trip, I thought that the most challenging part would be to witness first hand the hardships of the villagers in such an underdeveloped country as Cambodia. As soon as I got to the village, it was clear that this was not the case at all.
Everyone was laughing, happy, and gleaming with curiosity and excitement when a group of 20 westerners showed up. No part of my experience was mentally difficult, in terms of sympathizing with their lifestyle. Although a challenging element that came to mind was how many people in the United States can live by example of these Khmer people, and what I can do to communicate that most of them are not unhappy or deprived in the least.
Furthermore, the hardest part of my trip, as well as the best part, was to experience and be a part of their amazing community. The hard part was to get the feeling that life in America is much more materialized and less cherished than the lifestyles of the close-knit families and neighbors living in Cambodia. Although this is true, I will always hold onto and admire the simple, loving, and remarkable lifestyle that these Khmer people have living on the riverbanks of Tonle Sap Lake.
Has your worldview changed as a result of your trip?
Julia: Ever since I was young, my family has traveled to many amazing places, gaining cultural experiences that I will always remember. Traveling to Cambodia was the second time I have gone far away from home without my family. I am extremely lucky to have gone on this amazing trip and experienced the amazing country of Cambodia.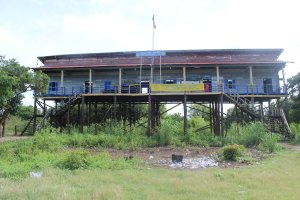 My worldview was changed in a tiny village occupied of simple, loving, and friendly people. Stereotypically, I would say that I learned to be thankful for the life I have in America, and to never take for granted what is given to me.
This statement is true in the sense that I am extremely lucky to be able to travel around the world and to have a loving family to take care of me. On the other hand, this trip did not truly impact my thankfulness for my life at home.
As a result of this trip to Cambodia, I learned that laughter and community are what ties people together. Through my time with everyone I met, my worldview changed in the fact that I now accept life as an adventure.
Laughter is everywhere; we just have to find more opportunities to have fun with the people we care about. I am now more aware of the people around me who love having fun, but I am also more aware of those who are seemingly never happy.
After this amazing adventure in Cambodia, I now feel a calming sense that everything will work out, no matter what obstacles challenge my strength. I will always view the world as a happier place, especially with the satisfying realization that millions of people all over the world are always laughing.
Happiness fuels a spirit of adventure and an awareness of the good in the world. My worldview is not only happier, more loving, and stress relieved, but it is now, and always will be, funnier.