Why did you decide to volunteer abroad with YCI in Ghana?
Devon: I was finishing up my International Development degree at Humber College and needed to satisfy an internship component to graduate. I was interested in travelling to Ghana because several of my peers had been there in the past and said it was a beautiful an extremely friendly place. YCI expressed interest in recruiting a group of us from the program to facilitate a 10-week project in Ghana and it sounded like the perfect opportunity to put what I had learned in class into practice.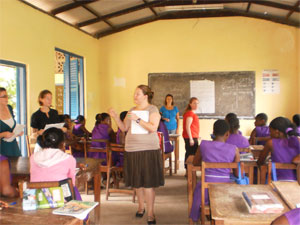 Describe your day to day activities as a volunteer.
Devon: The primary objective of our project in Ghana was to facilitate workshops relating to the United Nations Millennium Development Goals (MDGs) to youth and community leaders. A large portion of our time was spent running these "train-the-trainer" style workshops in order to ensure that youth in the community could continue to work on discussing achieving the MDGs at a local level after the conclusion of our stay in Ghana. As we were in-country over World AIDS Day (December 1st), we also collaborated with the YMCA Peer Mentors to run a large HIV and AIDS awareness event which was attended by over one hundred students. My typical day to day activities consisted of lesson planning, as well as consistently reviewing pre-tests and post-tests to monitor the success of our project.
What advice do you have for future volunteers?
Devon: Remember to be flexible, because no matter how prepared you are, you will be confronted by unexpected situations! Do as much research as you can on the culture and country before you depart. I found that through reading blogs and talking with friends who had been to Ghana provided me with insight on what living there might be like. Lastly, don't be afraid to ask questions. I found that my locally-based Program Manager was an excellent resource.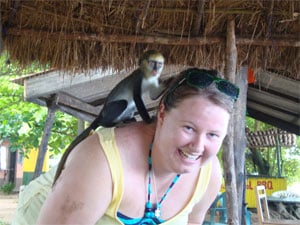 How has this experience impacted your future?
Devon: After completing my certification in International Development, this opportunity allowed me to not experience first-hand the challenges of implementing a project in the field. While I had written several project proposals, it was quite eye-opening to see what it was like to facilitate the project in-country at every stage of the project cycle. I had also taken a course in cross-cultural communication, but encountering those situations in person was a whole new experience!
Since I am still involved in youth engagement as a Programs Coordinator at CANFAR, I often draw upon my experiences and lessons learned from working with youth in Ghana.