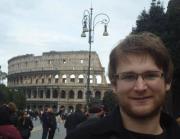 Why did you decide to volunteer with World Campus International in Japan?
Anders: I wanted to do something with my summer before I started school in Kyoto and stumbled across this program and was immediately interested. I mean, I get to travel across all Japan, living with local families who know the area and I even get to brush up on my Japanese before Uni? Sign me up!
Describe your day to day activities as a volunteer.
Anders: The days are fairly structured, yet completely different. It's typically up at 8, breakfast, assemble at 9, morning program, lunch, evening program, maybe an hour or two off and then home, dinner, post-dinner chats with your family and usually a fairly early bedtime, since you really need to get your sleep. Twice a week was off, one personal day where you can do whatever you want, usually meet up with the other participants and go have some fun, check out that cool restaurant your "parents" told you about and in our case, lots of football (soccer)! Every day, the program was very different though, ranging from visiting survivors of the Minamata mercury poisoning disaster to helping celebrate the anniversary of the Osaka World Expo to visiting businesses and getting to talk to the executives there. Every day was something new and despite having spent some time in Japan before that, every day was something brand new. I got to sleep in an 800 year old temple!
What made this volunteer abroad experience unique and special?
Anders: Definitely the unique access you get, as I talked a bit about above. As a tourist, you really only get to scratch the surface of what Japan has to offer, not to mention that most tourists are lucky to even get to see both Tokyo and Kyoto. I got to live in a bunch of different cities, meeting and talking to Japanese people and families from all walks of life, staying in everything from tiny villages with a population of around 500 to downtown Osaka, population 2.5 million. Even better, everybody you meet are really interested in getting to know you and to tell you about themselves. Even living in Japan afterwards didn't get me that kind of understanding of Japanese culture!
How has this experience helped you grow personally and professionally?
Anders: It's given me the opportunity to meet a bunch of really interesting people, while really improving my understanding of Japanese culture and language. Japanese people I meet are very impressed with the breadth of knowledge I've gained about their country and is a great way to keep conversations going when I meet people travelling.
Professionally, my employers were very impressed with my diverse background, even though Japan is not directly relevant to my job, just the fact that I have done these things and thus demonstrated a willingness to venture out into the unknown and work hard at learning new things. It's been a great personal development as well, teaching me how to cope with the stress of being abroad with a bunch of strangers for a long time in a country where I didn't speak the language fluently in a culture that was completely different from my own. In the process those strangers became awesome people who I'm always happy to see and talk to again.