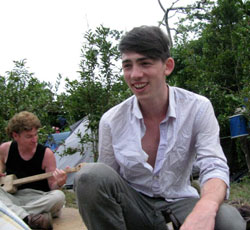 Why did you decide to intern with Azafady in Madagascar?
Matt: I had a multitude of inspirations that really came together after I had decided on the simple notion to go traveling. Madagascar had always interested me as a place and I had always wanted to contribute to a worthy cause. At first, these two independent thoughts just happened to coincide. But after I properly considered working for a charity in Madagascar, I realised that it was so much more to me. I am passionate about the preservation of biodiversity and what better country to do that within than one of the most biodiverse countries in the world. Where working towards that cause, within that country, would generally make a difference. By chance my friend had volunteered for Azafady two years prior to my experience and highly recommended the NGO. In the end it was senseless for me not to go. I wanted to make a positive difference in the world from a level that I could and interning with Azafady was the way towards achieving this.
What were some of your program's highlights?
Matt: The work aspect was very rewarding. I felt that I was making a physical difference to the world. We managed to uncover 200 discoveries of a tree that was thought virtually extinct. I never felt under pressure to work or contribute to the group. I was just happy to be assisting with the group and making a positive effort to the surrounding community.
As a personal experience, it was life-changing. I met so many like-minded individuals, that will stay friends forever. I had never been in an environment such as Madagascar and it makes you realize how valuable the biodiversity of the country is and how different the lifestyle compares to Western civilisation.
Describe your day-to-day activities as an intern.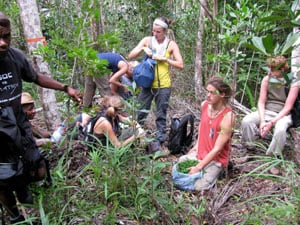 Matt: It is hard to describe a typical day, as we had such an array of activities to be getting on with, which would vary daily. We would rise with the sun at 6am, to the sound of a spoon banging against a cooking pot to signify breakfast. Once we had filled up on banana bread and a form of rice pudding, it was off into the rainforest. We were split into groups and all given various tasks. One group would potentially be tracking lemurs, monitoring their behavior and specific notifications of their environment. Another group would be searching for and noting herbs that they had uncovered, establishing whether a certain species was native to a particular area of the rainforest. The other group may be searching for a specific type of tree or plant and collect its seeds to reinvest in the population. This would largely last around 2-3 hours and we would walk back for lunch.
Both lunch and dinner tended to consist of rice and beans, in more forms than you could imagine. After eating and a prolonged rest, we would work again for a similar period. We worked as a team to build stoves for the community, we planted saplings in the tree nursery, we worked on and then presented lessons to the school children about the rainforests, where we would teach, sing songs and monitor colouring in. In the evenings we would have the option to go into the rainforest for similar excursions to the morning, or recuperate for the next day. The rainforest is a different place at night and the animals you came across reflected that. With our head-torches on we would complete another two hours of walking through the woodland, before making our way back to camp for some well-earned sleep.
What did a typical morning look like?
Matt: There's an early rise each morning, as you get up with the sun for breakfast. We were out of the longhouse by 8am and striding towards a section of the forest, decided by the group leaders prior to the morning. The groups are divided as you have the choice to pick one of three activities. This is usually either involving yourself within detailed research of lemurs, phelsuma antanosy, or mapping endangered trees. After two-three hours research we strolled back to camp.
Afternoon?
Matt: Having had a few hours to relax and eat a simple lunch, we head out around 2pm to work. Activities were similar, but we often assisted with livelihood projects. We helped build stoves, plant seeds and come up with lesson plans that we would later teach at the schools. On weekends we would go on longer excursions, discovering pristine beaches and isolated paradises. We would head home for 6pm dinner.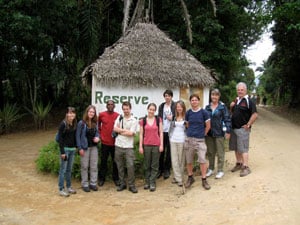 Evening?
Matt: We would spend alternate nights off, with 3 evenings spent heading towards the forest to search for nocturnal lemurs and herps. We would walk for an hour and a half, through the forest, guided only by torch and moonlight, encountering all sorts of animals, such as tree boas and frogs of the most amazing colours. When not in the forest, we would be enjoying the company of other volunteers and playing some of the hand-crafted instruments available at the camp.
How has this experience impacted your future?
Matt: The experience of going to Madagascar with Azafady has impacted me greatly and far more than I could have ever anticipated. I made some very strong bonds with the individuals that joined me for those brief 4 weeks, yet still keep in touch with them regularly. The experience is so unique, that the fact you shared that experience with those people, permanently bonds you together. We will always have that experience in common.
People I met asides, the drastic lifestyle change makes you realise what is important. The school kids, that possess absolute nothing are far happier than Westernised kids. The smile never leaves their faces, despite everything they have to deal with and talking to them is a delight. Living can be so much simpler. I am definitely driven to a less materialistic lifestyle. My diet has also vastly improved. I no longer feel the desire to go to KFC as, despite having it consistently for 4 weeks, having a simple meal like beans and rice is fulfilling enough and far healthier for me than junk food.
I am much more environmentally aware than I ever was and that impact, has become the primary point of any decision I make, over money or social concerns. I used to be very much fixed on getting a standard 9-5 job and earning enough to pay the mortgage. That desire has deserted me and I feel that the experience I gained from Madagascar, can not be forgotten about, but rather I should live a cleaner and more considerate lifestyle. I would far rather work for a good cause than have excess pocket-money for Pokemon cards. I am now, far more aware of the impact my choices have, and have far more desire to discover more about the world. I strive to learn more and enhance my knowledge of what is going on around us. I am starting to feel both how ignorant I am and how I am slowly moving past that ignorance.
However, the most important aspect is what an amazing and productive experience I had and I will never settle to be content with what I had. I don't feel I have to, but I want to strive for a better world. I am better than being passive to worldly matters I don't see as quite right and if you ever decide that Azafady is the right decision for you, I'm sure you will see it too.