What position do you hold at Azafady? What has your career path been so far?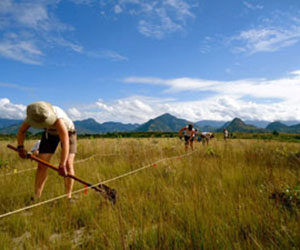 Joe: I'm the International Volunteer Coordinator here at Azafady's UK office in London. I suppose on reflection my career path started when I went out to Madagascar with Azafady as a volunteer on the 10 week Pioneer programme in 2006. This was before I had gone to university and whilst it sounds cheesy it certainly opened my eyes to what inequality looks like in reality - it's pretty much shaped everything I've done since. Two years after returning from Madagascar I went back out with Azafady as a research specialist focussing on the endangered palm Dypsis saintelucei, working the research findings into my final year project to wangle a bit more time out in SE Madagascar.
After graduating from university with a degree in Physical Geography I spent another year travelling before working for Tourism Concern as a Campaigns Intern. Tourism Concern are one of the only organisations taking a human rights approach to tourism - making sure that locals benefit from the industry as opposed to being exploited. Having seen how tourism can work well (such as with Azafady in Madagascar) and not so well (when travelling in China and Tibet), this was a poignient place to work before moving on to my current role.
What are the core principles Azafady strives to achieve?
Joe: Azafady is an award-winning British registered charity (number 1079121) partnered with an independent Malagasy NGO. Founded in 1994, we work on a wide range of projects both within the town of Fort Dauphin and with numerous rural communities across the Anosy region. Our mission is to alleviate poverty and conserve unique and biologically rich but greatly endangered forest environments in south east Madagascar by empowering some of the poorest people to establish sustainable livelihoods for themselves and improve their well-being. We have four main working departments; Community Health, Construction, Sustainable Livelihoods and Environment. We recruit volunteers to help us achieve our aims but our priority is firmly routed in the communities who we are working with.
What separates Azafady from other internship providers?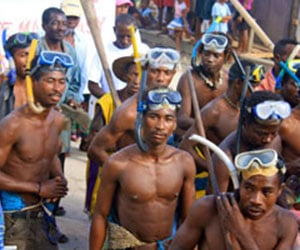 Joe: Volunteers that come to work with us do just that - they become temporary members of staff for a UK charity partnered with a leading Madagascar NGO contributing to vital projects all of which have been locally requested by communities. This makes Azafady unique and ensures that volunteers have a genuine experience that will contribute to the ongoing sustainable development of a region that is home to some of the most marginalised communities in the world.
What does the future hold for Azafady?
Joe: Azafady is not trying to change the world. We're realistic about our goals and the scope of what we can achieve. Focussing solely on the Anosy region of SE Madagascar, an area in many ways cut off from the rest of the country, we have built up a reputation over the last 17 years as a local capacity building organisation with a strong foundation in sustainability. We hope to expand this by building the capacity of other organisations in the region. Another focus for us over the coming year will be upscaling our sanitation work. Sanitation in SE Madagascar is notoriously poor but with some groundbreaking successes last year through implementing a new methodology for improved sanitation in rural areas we are now looking at delivering a variation of this approach to the urban centre of Fort Dauphin. With poor sanitation responsible for what are unacceptable levels of disease and shockingly high infant mortality rates this project could have a significant impact on improving community health at the regional scale.
In your experience, which characteristics make a good international volunteer?
Joe: The best volunteers are like sponges. They absorb everything around them, soak up the culture and embrace the lifestyle before squeezing it out into the project work side by side with local communities. So being sponge-like is perhaps the best characteristic! Combining this with a philosophy that you will only get out of the experience what you put into it and you have all the ingredients for a fantastic volunteer. So all that's left to do is to throw yourself into Madagascar!