Why did you decide to study abroad with IES Abroad in Vienna?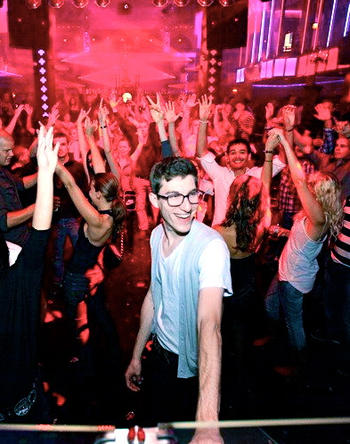 Michael Tomczak: I first learned about IES Abroad from Loyola University Chicago's study abroad office. Once I decided that I wanted to study abroad, I researched IES Abroad and other providers thoroughly to find the right program for me. I knew I wanted to continue studying vocal performance while abroad so I could complete my music major. I was delighted to find that IES Abroad offered a music program in Vienna, Austria. Musically, Vienna is the most influential European city.
In fact, virtually all of the famous classical composers—Mozart, Beethoven, Schubert, Brahms, Strauss, Haydn and even more contemporary composers like Mahler and Schoenberg—studied, composed, and walked the streets of Vienna at the peak of their careers. As a result, the decision to study in Vienna was fairly simple and blatantly obvious. What attracted me to IES Abroad's program specifically was that I could take music classes, which counted towards my music major, while also enrolling in liberal arts courses that also fulfilled general graduation requirements for me at Loyola.
What made this study abroad experience unique and special?
Michael Tomczak: The fact that I was given the opportunity to study where the greatest music prodigies once lived and composed was extremely special for me. It's not every day that you can visit the home of Beethoven, visit the palace where Mozart once performed for the Austrian Empress, or walk past the legendary Vienna State Opera House on your way to class each morning. I had so many surreal and inspiring moments that made each day unique and exciting.
Some of my greatest memories were also made on IES Abroad field trips – especially the 10 day trip to Budapest, Krakow, and Prague. It was during these trips that I really bonded with the other students in the program and made friends that I am still in contact with today. I was also selected to keep a photography blog for IES Abroad, which allowed me to capture and share these memories throughout the duration of my trip.
How has this experience impacted your future?
Michael Tomczak: The benefits of studying abroad are endless. Not only did my experience allow me to learn firsthand about other cultures and countries, but I was also able to study my passion of music in one of the world's greatest and most influential and historically rich musical cities. Academically, I was given an intensive introduction to German and was taught by prominent music faculty. Living in Vienna for five months also opened my eyes to the world by allowing me to easily travel from country to country. I learned a great deal about myself personally during my travels.
I discovered newfound passions, pushed myself outside of my comfort zone, and found that I could succeed in what appeared like impossible and daunting situations. There is no way a student could gain the knowledge and experience that I did if they choose not to study abroad. Thanks to Vienna and IES Abroad, I truly feel like a redefined world-class citizen. As they say auf Deutsch, "Ich liebe dich Wien!"