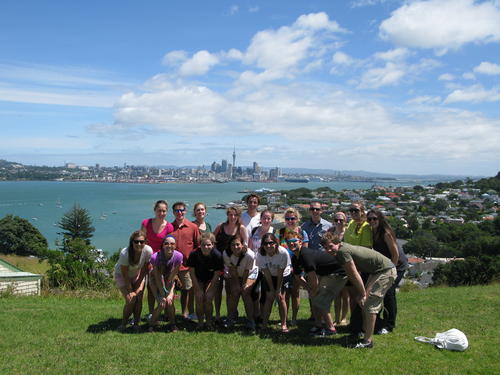 Why did you decide to study abroad with TEAN at Massey University?
Caitlin: I decided to study abroad with TEAN at Massey for some pretty simple reasons. TEAN was the only program working directly with my home university. After that it was a decision between their location. Since my major is agriculture/animal related they suggested three universities that may have good classes for me. After doing a little bit of research I decided that Massey University in Palmerston North was what I was looking for. The university isn't too big or small, it's relatively close to a lot of the country, and it had the classes I needed to take to stay on track back home.
What made this study abroad experience unique and special?
Caitlin: A lot of what made this study abroad experience special and unique was simply being in a new and different country. I could become any person I wanted to be! Although New Zealand is pretty similar to the U.S. in many ways, it was just different enough to create an amazing experience all on its own. I really enjoyed the large amount of outdoor activities that the country has to offer, from zorbing to skydiving to kayaking to simply tramping. The country had so much to offer for any experience. I recently came across a quote by Hannah Arendt that about sums up my excitement about going abroad, "Loving life is easy when you are abroad. Where no one knows you and you hold your life in your hands all alone, you are more master of yourself than at any other time."
How has this experience impacted your future?
Caitlin: This experience has impacted my future in a few ways. After having experienced life away from this country it is now much easier to view everyday things from a new world view. Something as simple as water usage becomes so much more in depth. I feel like this view is making me a better person at an individual level, and that it will also make me a better person professionally. Having traveled so much, I am now extremely excited to do more traveling in the future. Overall I think studying abroad has completely changed my outlook on life and my expectations for myself.