Why did you decide to study abroad with Education Abroad Network?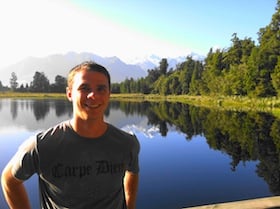 Bradley: Simple, they are the best! I first heard of TEAN because my university recognizes their program. After discovering TEAN I asked around, and never heard anything bad about them. If my mind hadn't already been made up, it would have as soon I contacted them. TEAN was, and continues to be, extremely personable. TEAN was quick in responding to all of my questions, and they always had the answers. I've heard horrible stories about the process to study abroad, but TEAN took care of that for me. They made what is usually a hectic process, and made it a smooth and relaxed one. TEAN helped connect me with the university in New Zealand, helped with me obtain a VISA, and they also have scholarships for students that study abroad with them. I have no regrets about going abroad with TEAN, they are incredible!
Where was your best photo taken and what was it of?
Bradley: How could I pick just one? I took so many amazing photos all throughout New Zealand. However, out of all of my photos I have taken, I always seem to look at one of them at least once a day. That would be my photo of The Remarkables, a mountain range and skifield in Otago, on the South Island. I took the photo while walking through the Queenstown Botanical Gardens. The photo nicely captures the snow covered mountains along with Lake Wakatipu. Every time I look at the photo I immediately become nostalgic for New Zealand and remember all of my incredible adventures I had there.
What made this study abroad experience unique and special?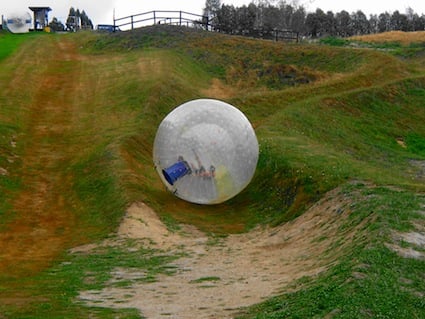 Bradley: TEAN made this study abroad experience unique and special. Before beginning my semester in New Zealand, TEAN offered a pre-semester orientation to Fiji for five days. Five days in Fiji! Who else can say they made a pit stop at Fiji before traveling to New Zealand for school…not many people, that's for sure. TEAN made my transition into the country extremely easy. They provided us with cultural excursions and events throughout the semester which was extremely nice. Another bonus was that they kept all of their students together throughout Fiji and our orientation session in Auckland. By the time our group of 60 separated for our different Universities we all had friends in every major city in New Zealand.This made traveling a lot easier and way more fun by visiting friends.
Do you think your program changed you as a person?
Bradley: I have definitely changed as a person due to my time in New Zealand with TEAN. Traveling the world has always been a dream of mine, and finally being able to a different part of the world is incredible.There are no words that I could use to properly describe how my experience has changed me. Studying abroad has taken me out of my comfort zone. It has opened my eyes up to the world and has allowed me to become a more confident, self-aware individual. Not only has studying abroad allowed me to make friends from all over the world, but I have also met and made friends from all over the United States! My experience was incredible and life changing; I am forever grateful to TEAN for helping make my dream come true.