Why did you decide to study abroad with Globalinks at Griffith University?
Erin: I had known I wanted to study abroad since I was a freshman, so the question was how I would accomplish that goal. I started doing research and asking around, and discovered one of my friend's friends had studied through Globalinks. I bombarded her with questions on her experience and decided to match Globalinks' programs against the others.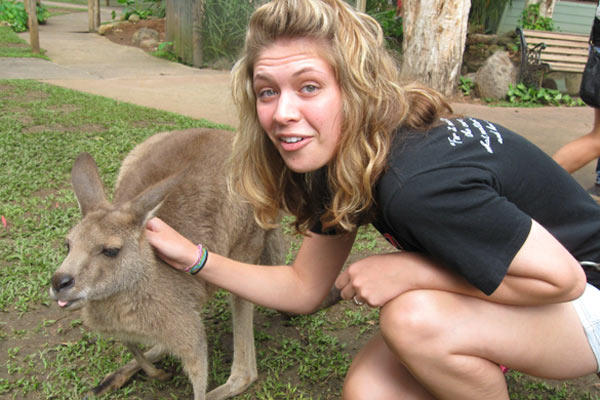 My home school did not have a program through my university in which I could go to Australia, so I attended the Study Abroad Fair at my university and talked to the Globalinks representatives. They were extremely helpful and very informative. After looking through all my information, it was clear Globalinks was my best bet.
The price was great, many different aspects of the abroad paperwork process were clearly outlined, and the package through Globalinks included much more than just tuition at Griffith. I knew I wanted to be near the beach and live in a "vacation" setting with plenty of options to travel while studying abroad, so choosing Griffith University-Gold Coast was a no-brainer!
What made your study abroad experience unique and special?
Erin: My study abroad experience was unique because Globalinks not only provided a school and resources in which to study at, but connections to other students who would be attending Griffith with me from America, which was one of the best parts about my abroad experience.
Rather than just shoving me paperwork and leaving me to fend for myself, Globalinks provided me with many outlets to receive help in filling out paperwork, checklists to ensure I was completing all necessary steps on time, and many connections to other students who would be studying abroad the same semester as myself, including a Facebook page and a group flight option (which nearly everyone from Griffith-GC took, so we all met and spent time together before even arriving in Australia!).
Also included in the program was a weeklong orientation in which we all went to Cairns before classes started to explore the Great Barrier Reef and culture of Australia while getting to know everyone else we would be spending the next 5 months with. This opportunity established close friendships for me from the moment I landed in LAX airport, as the people I met at the beginning of the trip were my closest friends throughout the program, and whom many I still speak with and see regularly since coming back to the States.
How has this experience impacted your future?
Erin: As corny and cliché as the statement is, studying abroad for a mere five months completely altered my view and perception of life as I knew it. After traveling around Australia and seeing sights most only see in books, I came back to Ohio with a fiery passion to continue traveling around the world and searching for adventure in all faucets of my life. Being exposed to so many different types of people and diverse cultures while being abroad has given me a new respect for other's differences, and I can honestly say I now embrace those differences more, wanting to further my knowledge about the unknown rather than to turn my head and continue through life with only my perspective.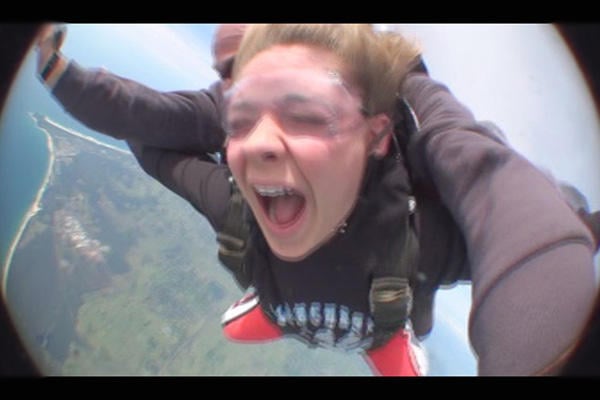 Aside from new experiences, studying abroad teaches you a plethora of skills you may never develop otherwise, such as configuring conversion rates for money when you're trying to buy groceries, learning that just because Americans do something one way does not mean that's the "right" or only way, and trying to fit your LIFE inside two suitcases for five months!
I gained plenty of practical skills that I still use today as well, such as constructing budgets, creating new ways to use all the food left in the pantry, learning to read bus timetables, overcoming my fear of asking strangers for directions, and planning trips for as little money as possible. Traveling abroad forces you to step outside your comfort zone and challenges you to compromise with what you are provided with in your environment, a task I was not faced with frequently at home, but openly embraced while studying on the Gold Coast.
Along with altering my worldview and opening my mind to new experiences, I also walked away with some of the best friends I have had in my life! I frequently speak with and visit my best friend from abroad, and we have had many of our own adventures since returning to the States, with a trip in progress to visit Costa Rica this coming summer to celebrate our graduation from college.
Being thrown into a new environment, a new culture, a new country, is an overwhelming thought. On top of not knowing a single other person on this trip with me, where I am stuck thousands of miles away from home for five months, is a downright horrifying thought. In situations like this, all you can do is adapt to the environment and make the best of your situation with those around you. Overcoming these scary, unknown obstacles alone is daunting, but is much more manageable with fifty other people who are in the same boat as you.
The people I met while abroad were what made the trip amazing, as the international students all helped each other out and the locals were nothing short of welcoming us in as one of their own. I have made friends abroad I will retain for the rest of my life, with many of the relationships beginning with a mere smile and simple "hello".
Traveling and seeing the new places opens up a whole window of discovery, broadening horizons I did not even know existed. It's very easy to get set in one's ways, especially during college where life may get hectic and there isn't a lot of time to be adventurous and daring, but studying abroad taught me, a perfectionist student whom dedicates all of my free time to studying and preparing for higher education, that life is SO much more than just GPA's and exams-there's a huge world out there just waiting to be discovered, and it's more than necessary to just slow down and have a little bit of fun from time to time.