Why did you decide to study abroad with Globalinks at Griffith University?
Sarah: I decided to Study Abroad in Australia because I always wanted to travel down under and I wanted to learn more about the Australian Culture.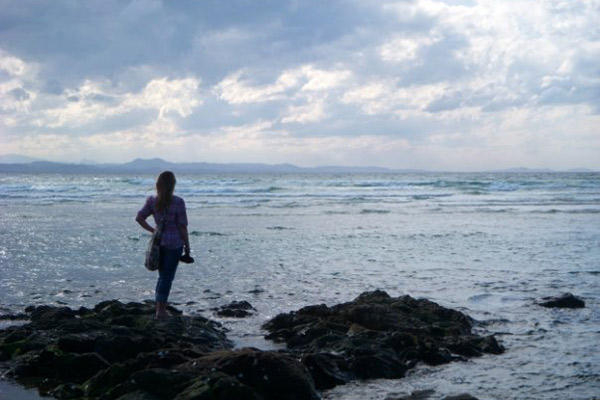 A perk of studying in Australia is that you are not required to study another language for a semester. I decided I wanted to study abroad my Junior year, and I did not have the time, nor the units to take a language class.
As I started researching online and through my school (Cal State Long Beach) I heard nothing but amazing stories from Globalinks. Globalinks was a little more expensive than some of the other study abroad groups, but they took great care of all of us, and provided us with the best travel, living, and customer service. I decided to study at Griffith University because it was centrally located in between the Great Barrier Reef and Melbourne. It was close to Brisbane, and just a 2 hour or so flight to Sydney.
What made your study abroad experience unique and special?
Sarah: I feel like my experience could not have been better. I met so many friends on the flight to Australia, and the trip to the Great Barrier Reef the first few days of the trip. The people I met on the trip really made getting used to your new surroundings that much easier and fun. None of my roommates were American, which I loved! Two were Australian, one was from New Zealand, and the other from Hong Kong. I learned something new everyday from living with a diverse group of people and that was amazing.
I traveled every other weekend with friends to Brisbane, Sydney, Melbourne, the Australia Zoo Byron Bay, Nimbin, the Great Barrier Reef and New Zealand. We even went on a 2 week camping trip to Canarvon Nation Park, Rock Hampton, Bundaberg, and Fraser Island. We all had about a billion bug bites after the trip, but we wouldn't have changed it for the world! It was amazing driving through open land and having stop stop for literally hundreds of Kangaroo.
How has this experience impacted your future?
Sarah: After my 6 months studying abroad in Australia, I truly believe that every college study should study abroad. Personally, I met so many amazing people that I still keep in contact with. I am still best friends with a handful of people from the Globalinks group, we are actually planning a reunion in April! Studying abroad was the first time I have even lived on my own without close friends or family and it taught be how to live by myself and meet new people!
I can honestly say I met someone new every single day, and that was an amazing feeling. Professionally it taught me how to juggle school and practically being on vacation. It was definitely a challenge going to school everyday when you are in such an amazing country, but I learned something new in all my classes and met new people. I actually left the school with amazing grades, which all transfered back to my home college.