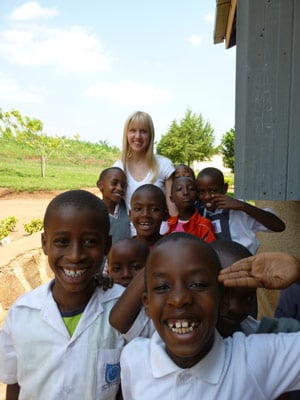 Why did you decide to volunteer with A Broader View in Rwanda?
Sarah: I chose A Broader View primarily because they had a program in Rwanda. They were also flexible in dates and length of stay, with reasonable prices as well. As I got to work with the program, I found them to be extremely informative and renowned for answering emails very quickly.
What made this experience unique and special?
Sarah: This volunteer experience was unique because it was my first time traveling outside of the US and I did it alone and in a third world country. I really loved how I was not going in a group of 10 other Americans, since this makes it hard to connect to local people. It was as though I just belonged. No one actually ever referred to me as a volunteer. I was simply the teacher or neighbor, and they called me as such. I have absolutely fallen in love with these people who highly value community and hospitality. It was also so unique for me because I got to take time to meet the family of my Rwandan boyfriend, who I would never have gotten to meet otherwise.
How has this experience impacted your future?
Sarah: Because I am going into the teaching field, the experience I gained from full autonomy in a classroom was priceless. More than that, it confirmed for me that I want to live and teach in Rwanda long term while simultaneously teaching me that I need to save up some money first. But the idea of spending my life in a place where materialism, individualism, depression, eating disorders, divorce, and so many things are unheard of- it thrilled me beyond explanation. I think sometimes people think of these travel abroad things as "the experience of a lifetime." For some, that is great. But I never saw it as such. I saw it as an invitation into a different type of lifetime. Why should such a great experience end at all? Once I save some money, I will be heading back to Rwanda to live and teach permanently unless God demonstrates to me that it is not his will.
Morning: I woke up at about 6:30 every day to the sound of children playing. I had my own room, but it was in the same building in which the boarding students and the other female teacher lived. I would brush my teeth and hair, and sweep the concrete floor and make my bed. Gathering up my lesson plans, I would head to have morning porridge with the other boarding teachers. Then the students would arrive and we'd assemble outside, them singing the Rwandan national anthem, and me listening as I take in the view of the hills all around us. I would teach my wonderful first and second graders for two 45-minute periods, then take morning tea break with the other staff, to continue teaching for another two 45 minutes classes before lunch.
Afternoon: Lunch was a two hour break, eating rice and beans or posho and beans with hot tea of course! The teachers eat together and talk, then maybe take some time to prepare for the afternoon lessons or grade papers or just play with the kids outside. Then we would continue teaching for another two hours. Usually I had a one period break at some time on any given day. I started a rotating school tutoring program that I would then run at the end of the day. The class sizes were under 20 students, but the language barrier and the varied level of student abilities called for this personalized time. If no one needed help, I would join in playing soccer which the kids did nonstop, or acting as judge for debate class!
Evening: At 5 pm, the majority of the students went home and there were a blessed 2 hours before dinner to simply take in the beauty of Rwanda. The weather is nearly always perfect there, and I would generally go fetch water after school, walking through the village taking in the sunset view and the wide open spaces. This was also when I got to be very social, speaking to everyone in the village since the watering hole was the social hotspot. Though I came almost every day, a muzungu (white person) is always a spectacle in Rwanda outside of Kigali, and though sometimes the stares were overwhelming, I generally loved the exchanges that took place here in a mix of broken English and broken Kinyarwanda. Then I would eat dinner with the staff who lived there, and go home and take a bucket shower and crawl into bed very early.
Highlights: One day I ran into a village boy playing with a toy he had made – a car made from barbed wire trash that actually steered itself. I was amazed but quickly realized he did not speak English, which means he will be unable to pass the test to enter secondary school which is given in English. A translator told me the boy's father did not have legs and their family was too poor to afford to go anywhere but the terrible public schools. I asked this third grader if he would be interested in coming to our school if I paid for him, even though it would mean not seeing all of his friends and starting school at a new scary place. He didn't think twice. That's when I realized education is more valuable than anything in Rwanda, and even a third grader knows it. That's when I realized what I was doing mattered.
Outside of my volunteering experience, just in general one day I was taking a walk and got lost, ducking into a small unknown village to call a friend for help. I saw two boys playing soccer with a ball made from trash and asked if I could join. Bewildered, they agreed until more came to play and others came to watch. Soon the whole village was watching as I set up jerry cans as goal posts and this crazy muzungu (white person) played soccer with these children. We had a blast, but what felt most blessed was just this feel of community. In the US, I could never do that. The difference is, the people let me into their world here, and they do so readily. One of the women even helped me find my way back to the school and became a friend of mine for the rest of my time there.