Why did you decide to volunteer with Otra Cosa Network in Peru?
Diego: It looked like an honest, transparent and serious NGO. Now that I know them, I can recommended it without hesitation.
Describe your day to day activities as a volunteer.
Diego: I used to wake up around seven o'clock, have a nice breakfast and walk to my school, as it was 2 blocks away from my hostel. I taught from 8h15 to 12h00 at a public primary school called Maria del Socorro. I was given a schedule which included teaching children from 3rd to 6th grade. I was free to run my class in my own way however I was very welcome to follow their English book. The better you speak Spanish, the more control you have over the class, but the most important skill is to have Charisma with the kids and a outgoing personality.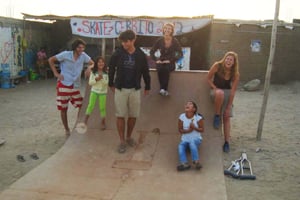 Few weeks after my arrival, I was invited by some other volunteers to have a look during the afternoons at another local project, called the SKATE RAMP in the humblest part of Huanchaco, called El Cerrito de la Virgen. Our goal was not only to keep the children away from the streets but also to help them with their homework, take them surfing or to the cinema. We wanted them to feel what other children from middle classes feel.
Sunsets are always at 6 o'clock and we all went to see it by the beach. It is like a tradition which cannot be missed. It is really beautiful but really fast, so make sure you are looking at the sun.
Also, the nightlife in Huanchaco is great. On Thursdays we all go to the 2for1 cocktails night, On Fridays it is Reggae night and Saturday Salsa night. Such dynamic night life helps us socialize with other volunteers as well as with Peruvians.
What made this experience unique and special?
Diego: I met incredible people, both volunteers and locals. I made friendships which I will carry for the rest of my life. Besides, I had never taught before and I improved my oral communications skills. It was a challenge for me and I want to believe that I completed it successfully.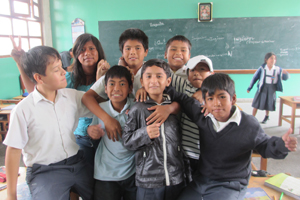 How has this experience impacted your future?
Diego: My experience was very positive. I feel that I learned more from the kids than I taught them. I tried to make them associate learning English with something really fun and I would like to believe that I succeeded on making them see that there is life outside Peru and English would be the key to many doors.
Please feel free to ask OCN to give you my contact details if you would like to contact me.