Why did you decide to volunteer with Otra Costa Network in Peru?
Jonathan: I chose Otra Cosa because of the relatively low price as some other NGO's plainly rip you off. Also, the speed at which the team of Otra Cosa sorted everything out showed me how professional they were. The diveristy of work experience was also a plus.
Describe your day to day activities as a volunteer.
Jonathan: I would usually get woken up by the avocado man around 7:30 - 8am. This was the local who went around on his bike shouting "palta!". From time to time I would actually go outside still half asleep and wait for him to pass by so I could purchase a few. After breakfast, I would go to the OCN office, say hi to all the other volunteers and get to work on organising the English classes for future volunteers as well as prepare for my own classes. The atmosphere was very laid back and there was a good mix of fun and work.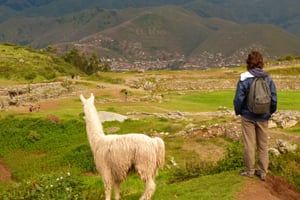 After lunch with the other volunteers (eating out is very cheap for us Westerners - a menu for a little over 1€), I had a little free time to either take a nap or go to the beach. Nothing beats that official siesta time at the beginning of the afternoon! I then went to the library in Huanchaco to give English lessons to adults. Here more than ever, English is a means for a better life and the students are some of the most motivated I've ever had. I would sometimes go for a beer with some of them after class. That's the best way to learn about Peru, talk to peruvians, be curious about them.
In the evening, I would go back home, chat with the family with whom I lived. If the sun hadn't gone down yet I would go to the beach to watch the amazing sunsets, either alone or with other volunteers I'd happen to meet in the street (Huanchaco is quite small and you'll never be lonely). Although this is only something I did a few times, you can also go surfing. An amazing experience as the sun goes down over the untamed Pacific. I would then go out and have something to eat (as I said, eating out is cheap), catch up with the other volunteers and just play it laid back, "tranquillo". That's the Huanchaco style: go for a drink, wonder around the clean streets of the centre, walk on the beach listening to the sea...
What made this experience unique and special?
Jonathan: What made the experience unique was the town of Huanchaco. There are plenty of travelling tourists in the surf resort that is the centre but as soon as you venture out, you see the real Peru in all it has to offer. This combination of the peruvian beauty, with flashs of western culture is perfect for a smooth transition into Peru.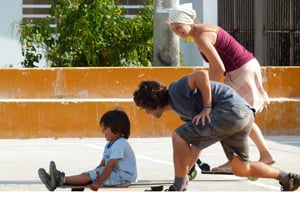 How has this experience impacted your future?
Jonathan: I've learnt one fundamental truth: we shouldn't have pity on poverty. Sometimes, hidden behind our flat screen televisions and high speed wi-fi connections, we tend to see poverty through the wrong lens. Being confronted to people who came from a poorer background made me see them through a different light; they don't want handouts, they don't want our charity, they just want to live life to the fullest and make their own way with dignity. Therefore, all NGOs must see long term and seek the autonomy of the people they are helping.