Why did you decide to volunteer with VESL in India?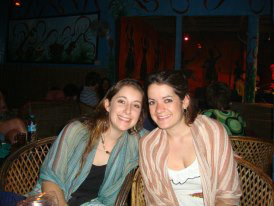 Eve: I wanted to travel and teach English abroad after graduating anyway and found out about VESL through my friend Lauren who was already going out to volunteer with them. I really liked the look of VESL because they were a small personal organisation ran entirely by past volunteers and not for profit. I liked the fact projects were designed and ran based on the needs of the particular community and I believed in the integrity and intent of the director who interviewed me. I had also always wanted to go to India!
What made this experience unique and special?
Eve: It was my host family and the children I taught who made my experience so unique and special. I had never received and never expect to receive again such generosity as I received from my host family, who welcomed me into their home, looked after me and would literally do anything for me, including changing their own daily routine and plans for my sake. In addition, the children I taught were awesome, so full of life and (generally!) eager to learn. They made my job a pleasure and were even on hand to help and play outside of school hours. I felt very home in Poonthura and lucky to be living amongst such amazing people.
How has this experience impacted your future?
Eve: My time in India has impacted my life a lot, not least from a professional point of view, as teaching in this setting made me realise that education is really the most important thing and all children should be getting it, at least at primary level. The quality of education where I was in Kerala wasn't great, and Kerala has the highest education standard in all of India. Hence, I am now working in informal education, but hope to do a teaching qualification and work in education overseas in the future, in countries such as India. My experience has also made me see hosting from a different light, having received such big-hearted hosting in India. I strive to be as welcoming and open as them! My time volunteering with VESL put things in perspective and helped me to appreciate the important things in life, such as family, giving and living life to the full.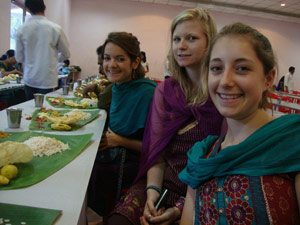 Morning: Mornings began at 7am with a sweet cup of chai brought to me by one of the daughter's of the family I was staying with. I showered with my bucket shower, then went down for breakfast – a huge meal consisting of dosa, appam or idli with curry! Then at half past 8 it was time to go to school, a 5 minute walk, during which I was generally accompanied by several chatty smiling children. I taught four 40 minute English lessons, 2 before break and 2 after. Lessons were always lively and fun and often involved songs and games and hopefully not too much shouting! It was pretty hot and noisy so by the end of the morning I was ready to go home for lunch – another huge meal!
Afternoon: We didn't teach in the afternoon so it was ours to do what we wished! This usually started with a lunch of rice and various curries and fried fish with my host parents, followed by a nap. I would try and get some lesson planning and reading in before the children got home from school at around half 3, then I played with my neighbour's little girl and got given chai and a (not really needed!) snack or 2! My host sister Jomiya got home at 5 so I chatted to her and often went for a walk to the beach with Lauren, my fellow VESL volunteer and several members of our host families.
Evening: The evenings were generally spent socialising with my host family, chatting and receiving Malayam lessons or giving English lessons! One of the daughters of my host family was the same age as me so we hang out a lot and became good friends. Dinner was at around 8 o'clock and consisted of more rice and curries, yum! After dinner the family usually watched tv and I either joined or retreated to my room to plan my lessons for the next day. Some evenings I would also go around to Lauren's house for dinner and play with the lovely lively children she lived with!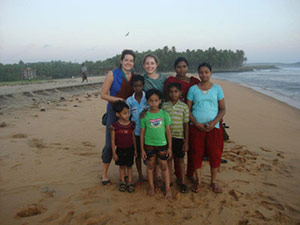 Highlights: My volunteering highlight was probably around a month in when I began to feel I was really making progress with the kids. It took a while to find my feet and for the children to get used to me and my lessons, but after this the teaching became great fun, I loved going to school and the children came on leaps and bounds! However, my highlight of the whole experience was undoubtedly the times spent with mine and Lauren's host family, who both showed me immense generosity and kindness. Lauren's family took us both on a weekend trip to the Southern tip of India and went to great lengths to show us everything of interest on the way, put us up at their relative's house, fed us more than adequately and even bought us presents! I am still in touch with my host family and will never forget what they did for me.