Why did you decide to volunteer with Azafady in Madagascar?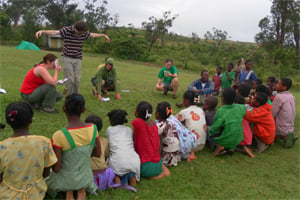 Daniel: I'm not a fan of traditional holidays, so I was looking for something a little different. I came across Azafady's short-term volunteer program when searching for volunteering opportunities in Africa, and was instantly attracted to it. Madagascar sounded like an amazing place, with some wildlife I'd never even heard of, interesting culture and welcoming people.
The charity also presented itself well, with a lot of information easily available online, and very helpful staff, who responded extremely quickly to the questions I had. I was also impressed by the amount of their budget which is directly spent on the aims of the charity, and finally I read a few reviews from previous volunteers, who seemed to find it difficult to think of a negative thing about the whole experience.
Describe your day to day activities as a volunteer.
Daniel: We would get up early every morning as the sun came out, having sweet rice with zebu milk and bananas for breakfast, before we started work. We were repairing and improving a small school in a rural area, doing tasks like digging foundations, mixing cement, basic carpentry and painting. The work was hard, but rewarding, and a lot of fun. Most days we had a Malagasy language lesson from one of the guides during lunch, before carrying on with work in the afternoon. In the late afternoon some of us played games with the local children, before taking refreshing bucket showers, and eating dinner out under the stars. After dinner we would talk or play card games, sometimes heading down the hill into the nearby town of Mahatalaky, to meet the locals or have a beer.
What made this experience unique and special?
Daniel: Madagascar is an amazing place in every way, from the spectacular scenery, to the huge number of plant and animal species not found anywhere else in the World, and of course the amazing friendly people. Azafady's approach involves total immersion in the local culture and environment, so it's a lot more authentic and enjoyable than some trips. They also offer fantastic support, both in country and beforehand. Having been on a similar trip before with a commercial company, I was surprised to find how much better Azafady were at lots of the admin/preparation things, as well as the overall experience.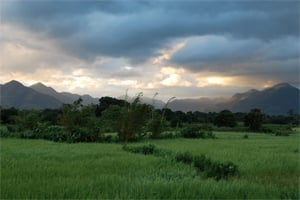 How has this experience impacted your future?
Daniel: Although I've travelled previously, and had some idea of what life was like in less developed countries before I got to Madagascar, the trip was a good reminder of the situation in the rest of the World, and has helped me to regain perspective on my life.
I also rediscovered my love of travel, and have already arranged a similar trip to Africa next year. I made some great friends whilst I was there, and have kept in touch with others on the trip and the charity itself. In fact, ever since I got back I've been considering changing career so that I have more opportunities to do things like this in future.
Morning: Every day we woke up early with the morning sun, some of us doing capoeira with the local guides before the shout of "Breakfast is readdyy!" from the cook. Sweet rice, zebu milk, banana bread and coffee, then we talked about the plan for the day.
Most days we worked on the school repairs, doing tasks like digging foundations, mixing cement, basic carpentry and painting. It was hard work but very rewarding, and the local construction team helped those of us with no building experience.
Afternoon: We spent the hottest part of the day in the shade, often having a lesson in the Malagasy language taught by one of the local guides, who all spoke good English as well as French, and bits of other languages. Lunch was usually rice and beans, followed by a break before the afternoon work began. In addition to the external repairs to the school, we also found time to repair some of the desks in the classrooms, and play football and catch with the excitable local children.
Evening: As the sun set, we took cold bucket showers with water pumped from the well. After the dirt, concrete and heat of the day these were incredibly refreshing, even with occasional visits from lizards and frogs. We ate dinner outside under the tree most days, with the odd candle and head torches to see what we were doing. Usually consisting of rice and beans or local vegetables, we sometimes got chicken or zebu meat. After dinner we would talk or play card games, sometimes heading down the hill into the nearby town of Mahatalaky, to meet the locals or have a beer.
Highlights: On my favourite day out in the Bush, we divided into smaller groups to plan and give lessons to the local schoolchildren on three subjects: English, Environmental Studies and Health & Hygiene. About an hour long, each lesson was taught to a group of about 60 kids aged 6-13. As part of the Environmental Studies group, I helped to teach the kids about endemic animals, and the value of the unique habitats found in Madagascar.
We explained what endemicity was, before asking the kids whether various animals were endemic to Madagascar or not, acting out each animal to the guffaws of the children.We also told the kids a story about an animal looking for a suitable home, acting out each role in the story whilst one of the guides translated.
Overall though, my favourite moment was earlier in the trip, when we visited a lemur reserve. We saw a family of brown lemurs, some bamboo lemurs in the distance, and a whole tribe of acrobatic ringtail lemurs. One dangled upside-down from a tree as I fed it guava, it's ridiculously soft hands taking the fruit whilst its bright eyes looked at mine.