What inspired you to teach ESL?
Racheal: Teaching is something I've always considered. I love children and I've always had a passion to inspire young minds. I thought that by teaching English as a foreign language I could really help inspire children and also help them learn a valuable skill, as English is one of the most widely spoken languages and is very sought after in today's growing world. It's a handy skill to have if students wish to study in Western countries and for those who have a passion for languages. It's one that should be on everyone's bucket list.
Why did you choose LoveTEFL?
Racheal: I had done a lot of research into TEFL companies and I didn't want to go with just anyone. LoveTEFL was a new company but with lots of experience in the TEFL field. The package on offer is amazing and a very good deal to anyone who fits the criteria, which isn't a lot to be honest. The three guys who run the company are down to earth, honest, quick with responses to any questions and really passionate about getting the right people into teaching English. Everything from the website down to the very last remark on an email suited me perfectly.

Describe your day to day activities as a teacher in China.
Racheal: The schedule at Little London is far different from what I imagined teaching to be. I teach one evening a week, Saturday and Sundays. In total, I teach 22 classes per week unless I'm asked to do more. The main focus of our teaching is to get the students who range from ages 5-15 to converse in English. They will sit exams, but the Chinese English teachers prepare them for this. It is a joint effort with us to teach them how to survive in an English speaking country. We play games and it is a fun learning environment but there is much focus on sentence structure and vocabulary expansion. We lesson plan with our counterpart Chinese teachers and all give demo classes to one another to improve our teaching and our own learning. We help each other like one big family.
How has this experience impacted your future?
Racheal: This experience has changed my entire life. What I had planned for myself academically, personally and professionally have all now been muddled up and I've honestly got no idea what I'm doing. Having said that, it doesn't mean it's a bad thing. It's good, for me at least. I welcome upheaval and change, so far this experience has changed me. I'm different, I'm better. I have a lot more aspirations now than I ever had before, my desire to travel the world is only reinforced and I'm so much more determined to experience as much of the world and it's cultures as I can. I don't miss home, except my dog and my car. Personally this experience suits me perfectly. There are others who are here with me who are finding being away from home very difficult but I think it's liberating. There are so many opportunities for advancement in career and knowledge. I may even do my masters degree out here. To be honest I don't know what the future holds but I'm excited to see what happens and it's going to be a memorable journey full of adventure and hopefully include my amazing friends I've met so far.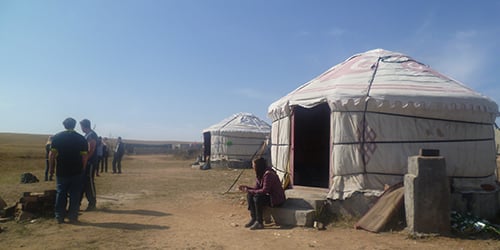 What is one piece of advice you would give to others thinking about teaching abroad?
Racheal: GO FOR IT! If you don't do it now you'll regret it. Its definitely the single most amazing thing I've ever decided to do. I never want to go home. The possibilities once you're out here are endless. The people I've met are truly wonderful and friends for life, the experience and totally different atmosphere is mesmerizing. This is China, this is Hohhot, this is my life and I'm going to live it! All I can say is take the leap, dive off the deep end and into a world of unpredictable changes, dizzying differences and ultimately a great opportunity and lasting memories.