Why did you decide to volunteer with UBELONG in Morroco?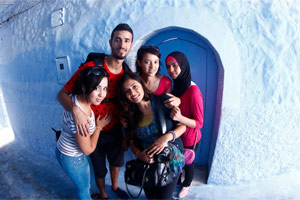 Zainab: Most people volunteer overseas to gain experience living and becoming familiar with another culture. However, this goal is seldom realized for short-term volunteer programs because the volunteers are housed together in one location and they live day in and day out with other non-nationals such as themselves. The reason UBELONG outshines is because they promise a unique experience to the volunteers, who get a better and a well-rounded experience by living with a host family. This allows for active involvement in a foreign culture and aids in expeditiously breaking language barriers. None of the volunteers are placed together to live, which makes for a challenging, yet a more rewarding experience. With UBELONG, volunteers pay about 50%-75% less than competitor organizations. Their level of expertise and availability to help, listen, and guide is phenomenal. No doubt, UBELONG's programs are unparalleled!
I knew I wanted to go to Morocco well before I decided on UBELONG. I was interested in becoming more familiar with the Arab culture. I felt that this part of the world is often overlooked when it comes to international volunteer and community/economic development programs. Women and girls are underrepresented in most parts of the world, especially in developing countries, so I wanted to get a first-hand perspective on the level of gender equality in Northern Africa and the Arab world. I also knew a couple of people who had studied abroad in Morocco and their ravishing stories about the country never seem to end. Morocco also has such a wonderful, rich culture and has a history that is often overlooked or is unknown in most parts of the world. The mix of cultures, races, religions and ethnicities over centuries has made current-day Morocco the true singular melting pot in Northern Africa.
Describe your day to day activities as a volunteer.
Zainab: While living in the old medina, you must get used to waking up to the crowing of the rooster at the crack of dawn, alongside the muezzin who announced the call to prayer each morning. Volunteers would usually set up a meeting spot within the medina, and we would walk about half a mile to the taxi station to catch a taxi from Rabat to Sale. Once in Sale (Rabat's twin city), a few students from the NGO would greet us at the taxi station and accompany us for another half of a mile until we reached the school. One can quickly grasp the stark distinction between Sale and Rabat, and why Sale longs for extensive community development initiatives as compared to Rabat, the capital of Morocco.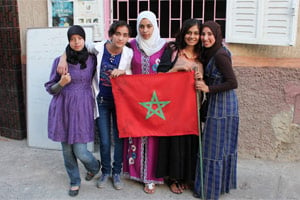 Classes would begin shortly and the students (who were already familiar with the room they have to go report to) were eager to learn. We had the classes divided by level of knowledge of English, and the volunteers spent about 6-7 hours a day teaching. Lunch is the most important meal in Morocco, and it is the time when business and offices and schools close for 2-3 hours and everyone heads home to enjoy a large meal with their families. Even though we had the option of going back to our host families, the volunteers decided to stay and explore Sale instead. We would grab lunch from a small café and then spend a couple of hours touring the city, snoozing for a while at the school, or simply catching up on e-mails with loved ones back home. When the students returned after their lunch break, we would then spend the next 3 hours continuing the class where we had left off earlier.
"Bye teacher Zainab," and "maasalaama," and "thank you," followed by hugs from the younger students would be how I concluded my work days. The same few students who greeted us in the morning would then walk us back to the taxi station, and we would battle another half hour of rush hour traffic heading towards Rabat. The next few hours in the nation's capital would be ours to have, and while the first couple of days I spent settling in with my host family, the later few were spent exploring the city and especially the almost-magical old medina within which we resided. Each day was a different experience, unique in its own way.
Moroccans are known to eat dinner later too (and by that, I mean 9-10pm!) and so by the time I would return home, my host mom would be preparing dinner and I would watch her cook, try to make mental notes of recipe's, watch some soccer with my host dad and brother, and play with the kids for a while until dinner was ready. After finishing dinner, we would immediately change into our pajamas and get ready to sleep. I would be bombarded with goodnight hugs and kisses from my 6-year-old host sister who is arguably the cutest little kid in existence.
Having only 3 weekends in Morocco, I dedicated my first weekend to familiarizing myself with my host family. The next two weekends were spent traveling and sightseeing around the country with students, other volunteers, and study abroad students we met in the medina.
What made this experience unique and special?
Zainab: Since each volunteer is individually assigned to a host family, he or she is on their own. But that's the fun of it! Typically, the host family members have very little knowledge of English so it's amazing how much more you can learn in such a short amount of time when you are spending your whole day with locals. Although I am awfully far from being fluent, I learned more Arabic in those meager few weeks than I would have ever learned if I was not living with a host family and just working/studying in the region.
I wanted to learn as much as I could teach and I was very fortunate to have a classroom all to myself with a large group of students, many of whom I have become good friends with and write to on a regular basis!
How has this experience impacted your future?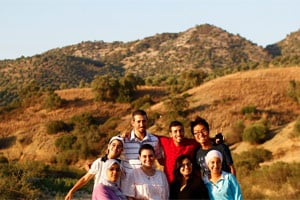 Zainab: Of all the ways this experience has changed me, I think most importantly is the one where I now doubt my short-term professional plans. An aspiring auditor with goals of becoming a CPA and attending graduate school in the upcoming years to attain an MBA, I now see myself doing nothing but working in international affairs, public policy and global development. As long as I can remember, I've had a long-lived dream of building a school(s) for girls in a remote area of my country of origin, but that was a dream for my latter years in life. I feel myself being constantly being pulled to the development sector, almost as if I've found my calling – to help others, promote peace and equality, and change lives.
I've done international travel before for academia, but nothing compares to my experience in Morocco. It has humbled me deeply, changed my direction in life, and has inspired me in ways I never thought it would. It has made me have renewed hope for humanity, and helped me realize there is nothing in life that is more important than your loved ones. Money doesn't buy happiness, and neither does power. What does promise eternal happiness is having love, respect and care of others. Life is so simple and the best way I can illustrate simplicity and happiness is from a fond memory I have that I want to share:
My host family and I would often eat dinner on the terrace of the house. One night, my host dad whipped out a harmonica and the sight of it, the kids screamed with joy while my host mom starting blushing. Confused, I inquired of my host mom, and she explained that her husband courted her 12 years ago with this same harmonica! He even played her favorite song on it at their engagement and wedding! I vividly recall my host dad playing Arabic and French songs on the instrument for about half an hour, the first half of which we spent singing along and laughing and clapping. The other half we spent sobering up and just dazing into the sky, amazed by the beauty of the full moon, the bright twinkling stars, and the cool summer breeze. I noticed the family had huddled together and they were hugging and kissing one another, the love was apparent, and it was strong. I understood in that instance that this is true happiness... My eyes met my host mom's for a split second, and I realized we both had tears of joy in our eyes….
I encourage YOU to step outside of your comfort zone, diminish your personal bubble, learn to take risks and travel to a 3rd world country to do volunteer work. Yes, it is a bit intimidating, but the moment you step out of your shell, you will quickly learn that there is a world out there just for you, waiting to be discovered.