Why did you decide to volunteer abroad with IHF in Indonesia?
My: I was actually in an exchange program in Jakarta in Spring 2012. Because I want to know more about the culture and local people, especially I love kids, so I looked for some volunteer program on the Internet. IHF was the most suitable for me so I came to the center to teach English part-time.
Describe your day to day activities as a volunteer.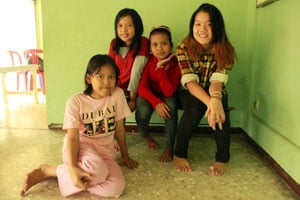 My: It was pretty like an adventure in the beginning because my dorm and the center were 2 hours away by bus. So 2 to 3 times a week I had to traveled for 4 hours to come to teach in the center. Traffic in Jakarta is quite terrible so the first few day were hard but soon I got used to it and the ride was finally ok. I taught English for elementary school. All the books are provided by the center. Each class was around 1 hour. We mostly played games besides going through some basic English. After class, I usually stayed with the kids for a while and talked about stuff that they liked or showed them something interesting on the Internet. Sometimes, I would talk to locals or IHF staff.
What made this experience unique and special?
My: I enjoyed teaching English to kids there very much. They are all very lovely and genuine. Besides teaching, talking to them about school and life and stuff was very interesting to me. I still contact some of them through facebook. IHF staff was helpful too. Because of this program, I really got to know Indonesian people.
How has this experience impacted your future?
My: Actually, the kids I was with taught me a lot such as patience, empathy and optimism. For some that I still contacted, I really hope I can follow them as long as I can. I'm not sure I can help much but at least, I can motivate them. Besides, I had been always interested in volunteering but after this program, I think I will actually take it seriously. After my graduation, I planned to volunteer for 6 months to 1 year. Maybe I will come to IHF center in Kenya.