Morning: My mornings are generally quite relaxed. Classes usually begin at 1pm (except for Mondays and Thursdays at 9am) so I can sleep in if I feel like it! Once I'm up, I prepare what I'm going to teach in my classes. We have a curriculum that I use as a guide and I try to incorporate games and activities to keep my students happy.
Some mornings I might help out with tasks around the centre like cleaning and reorganising. The mornings are also a great opportunity to do my washing! There is no washing machine at the centre. We have a floor space with buckets and scrub board. It can be quite the workout but helps you feel like a local!
Twice since being at the Jakarta centre I've spent my mornings out recruiting students. We hand out flyers at local schools and slum areas close by. I enjoy recruiting because I've been able to see where the children I teach come from. I was so shocked realising that living conditions in Indonesia can get so bad in the slum areas. But it's helped me realise that I'm here for a reason and I'm providing so many opportunities that these children may not otherwise have.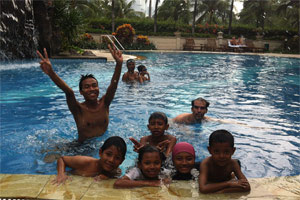 Afternoon: The afternoons are when majority of the classes are. English, maths an computer skill classes are offered here and I've been teaching English to all our primary school students. Classes run for and hour and I teach 2-3 per day so this keeps my afternoons busy. If I have a bit of time in between classes I'll usually just try to cool off from the humidity a bit! In class the children are very energetic and cute, especially my year one class. I have no teaching experience whatsoever and I haven't experienced much trouble at all so it's quite fun and very fulfilling work to be doing.
In class I teach general topics and try to make everything as clear and easy as possible. Towards the end of class I'll ease up a bit and we'll play a game, trying to include some aspect of the lesson. I have no inclination of pursuing a career in teaching but I think volunteering like this is an excellent way to help less fortunate communities.
Evening: In the evenings classes are still running for high school students, but everyone in the centre is less busy and we are able to relax as a family. We eat dinner together in the centre as we retell any interesting stories from the day and chat. Sometimes after dinner we'll watch our favourite soaps on television (Indonesia has A LOT of soap shows) while playing the Indonesian board game, congklak. Other times we will play games with the children, such as hide and seek, badminton or just riding around the streets on bikes. I enjoy the evenings a lot because I get to bond with everyone I'm living with more and enjoy the simplicity of the Indonesian lifestyle.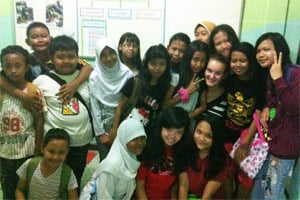 Highlights: The highlight of my volunteer experience would probably have been a few weeks ago. The centre had their own version of environment week where all the classes were taught about the environment and ways to save it. I loved this week because the classes were so much more full of life and spirit as the students learnt together how to minimise environmental issues. I also enjoyed environment week because planning and teaching the classes were a lot more fun as well. I made worksheets and we played exciting games. All the children worked really hard and seemed like they were generally interested in how they could help the environment.
I've had a lot of memorable moments outside of the centre as well, but my favourite would have to be our Sunday trip to Taman Mini. Taman Mini Indonesia Indah is a theme park in South-East Jakarta that points out all the different islands and cultures of Indonesia. The park itself is enormous but every section had something different to offer. I never thought staying in Jakarta that I would learn about Sumatra and Kalimantan's cultures! My favourite section in Taman Mini was the wildlife park. It featured animals (living and extinct) that exist in Indonesia. There were crocodiles, turtles, and a lot of exciting animals. I was even lucky enough to pat a komodo dragon, as well as nurse a huge 3 metre long python! Taman Mini was such an adventurous experience and it's a must for anyone visiting Jakarta.