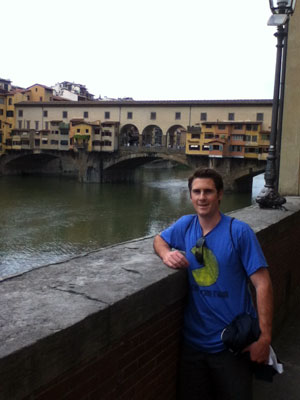 Why did you decide to volunteer abroad with CHI in Italy?
Daniel: I decided to go abroad to Italy because it has always been a dream of mine. I've always been enchanted by the culture, food, and amazingly kind people. It also helps that I am Italian on my father's side.
Describe your day to day activities as an intern.
Daniel: Well, my schedule was different day to day. On most days, I would actually help take care of the nine dogs that my host family owned. They're actually Bernese dog breeders!!!! Sometimes, I would take the train into Rome's city center, or practice my Italian. The kids would usually be home at three, sometimes later because they did after school activities. Usually when the kids arrived back home after school then I would teach an English lesson or help them with their homework. After that it was a deliciously served dinner, then TV watching or ping pong playing!
What made this volunteer abroad experience unique and special?
Daniel: This experience is special to me because its my first time ever to Europe, specifically Italy. What's more special is that I was able to build long lasting relationships with all the people I met in Italy. Whether it is the kids, the family, or just other people that I met on my travels, I still keep in touch with them till this day.
How has this experience impacted your future?
Daniel: On a personal basis, this trip has greatly impacted my future. I feel like I have a second family in Italy. In fact, they have invited me back on numerous occasions. Of course, I will go back one of these days. On a professional basis, this experience has not impacted my future as much, but I know it will. Again, I feel like there is opportunity, perhaps in Italy, I just have to be patient.