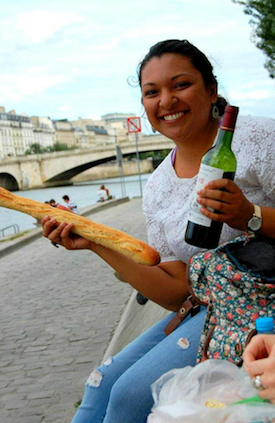 Why did you decide to study abroad with ISA in Paris?
Monica: ISA Paris was an approved study abroad program at UF, and I liked the idea of studying through an independent organization rather than my university so that I could meet students from other schools. My study abroad advisors and other students highly recommended ISA. I liked that they offered a summer program in Paris that combined language and art history and offered several excursions and housing options abroad. It seemed like a flexible program that could appeal to the needs/interests of many students. The structure of the program really appealed to me because it was very integrative and well-rounded.
What made this experience unique and special?
Monica: I really loved how ISA made an effort to make my study abroad experience special. I was placed with a host family that was so kind, and it was a pleasure living with them. I also liked how they planned events for us in the city and excursions outside of Paris. It allowed me to build relationships with other ISA students and see more without the extra hassle of having to plan a trip and travel alone. French courses at the Institut Catholique de Paris are great because you are in a class with students from all over the world who are there to experience Paris too. Art History with ISA was fantastic because we had class at all of the major sites and museums (never a classroom), so I felt like I was sight-seeing and learning at the same time.
How has this experience impacted your future?
Monica: I gained a deep appreciation for French culture as well as the idea of cultural exchange as a whole. My French improved greatly, and I came back with a newfound confidence for speaking it and hope to eventually do service work in French-speaking countries. Finally, I was really forced out of my comfort zone, and I opened up myself to new experiences that have taught me so much about myself and my relation to the world. I am now a part of an organization that welcomes foreign students to UF, and I enjoy sharing the study abroad experience with them because I know my experience had such an impact on me. I came away with an appreciation for life and exploration that has really helped me to make the most of everyday, and I only hope to return to France one day and experience it again!