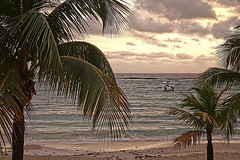 Why did you decide to volunteer with VISIONS in Jamaica?
Nathan: I was the staff advisory for a VISION trip comprised of 10 undergraduate students from a mid-western university looking to serve and learn from Jamaica and its wonderful residents. We we looking for a comprehensive program that would be flexible enough to allow us to focus on the desired values of service, simplicity, spirituality, community, cultural exchange, and justice issues as well as a program structured enough to provide a safe learning experience.
Describe your day to day activities as a volunteer.
Nathan: Through this experience we had the opportunity to volunteer at two separate orphanages, a primary school, as well as a senior citizen home.
What made this experience unique and special?
Nathan: Hands down, living with a true Jamaican family transformed this experience. To be able to have numerous direct contacts to ask questions of, learn about their lives, live where they live and eat traditional meals gave an insight into the culture that can only come from such a personal interaction.
How has this experience impacted your future?
Nathan: I can boldly speak for the group when I say that all of us have a much clearer picture of what life is truly like in Jamaica. We may have only visited for 2 weeks, but the amount of quality time spent there investing and learning was extremely fruitful. Our days were busy and very enjoyable, but always learning and growing. Personally this trip has reinvigorated my heart to serve underprivileged youth in developing countries and here at home in America.