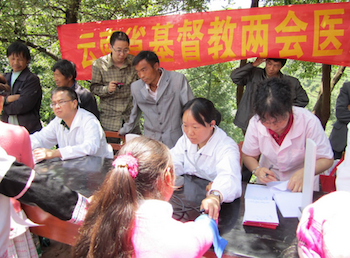 Why did you decide to study abroad with Minds Abroad?
Ruth: My decision to study with Minds Abroad was uncomplicated. Several months before summer, I started looking into different study abroad programs. I knew that I did not want to study in the bigger cities like Beijing, but I wanted a unique and authentic experience being in the heart of China. Most of the programs I found were in the big cities and prices were quite expensive. When I found Minds Abroad and noticed they had a program in Kunming, I was attracted and wanted more information. The manager's response was really quick, and I was also able to online chat to get questions answered right away. I had no connections with anyone in Kunming, but knew it was the place for me. And I was right. I loved Kunming; it is a city unlike any of the bigger cities. It has a beautiful culture with diverse minority groups. I learned so much about Chinese culture in Yunnan through that summer during my classes and from the firsthand day-to-day experience.
What made this study abroad experience unique and special?
Ruth: I enjoyed the classroom time studying Chinese the most; my teacher felt the enthusiasm and motivation in me. My teacher was wonderful and so dedicated. Her knowledge of Chinese culture and her commitment to teaching meant a lot to me. Even though I am American born Chinese, I worked so hard every day because I wanted to learn as much as I could, but on the other hand, because I am Chinese, she expected much out of me which pushed me even harder.
I was able to apply what I learned inside the classroom to the world outside of class. For example, one weekend I took a day trip to Yunnan Minority Village after learning about the Tibetan minority culture. My assignment upon return was to verbally share my experiences using the vocabulary I learned in class. I was very eager to try the yak milk tea and biscuits that were the staple foods of Tibetan people. I also had pictures taken of myself wearing a Bai minority outfit. Such experiences are very special and memorable.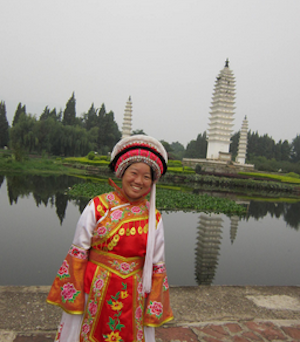 How has this experience impacted your future?
Ruth: The Minds Abroad staff is so supportive and friendly that we have maintained connections even until today. During my time there, I set really high expectations of myself and am amazed how much my Chinese has improved after the summer program. Besides class time, Minds Abroad specially arranged for my volunteer work to be with a local Christian church. I said specially arranged because it was the ideal match. One, because I am a Christian, and two, because I am a Registered Nurse and they could use my help in their medical projects. Our team traveled many hours away one weekend to a rural minority village for a medical clinic. I gained valuable experience talking with and learning from their culture; it has been such a positive impact that I went back to Kunming on my own the following summer to be involved in more medical volunteer work. Minds Abroad has impacted me in many aspects, and I'm so grateful for choosing this program.