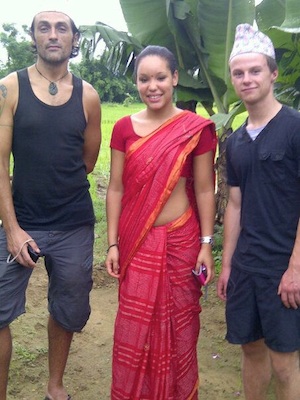 Why did you decide to volunteer with EHN Nepal in Kathmandu?
Asia: I decided to volunteer abroad because I wanted to get an insight in how an NGO project actually works, how the projects are laid out/constructed and where the money goes. I saw EHN advertised on Omprakash whilst I was travelling in India and planning to go to Nepal to visit friends so I sent them my details, explained what I was interested in doing and filled out the formal application. They were very friendly and informative and I knew that I would get the best possible help whilst working with them as they were very responsive and flexible to my time schedule and the things I wanted to experience whilst there.
Also, as it was a relatively new organisation, I was the first person on this specific school on the teaching project and this meant that they really regarded my feedback on the school, standards and elements of the project. It was nice to contribute to shaping the project and putting forward my ideas whilst working with the new staff and therefore the element of creativity is something I enjoyed also.
Describe your day to day activities as a volunteer.
Asia: I would wake up at 7.30, shower and get ready to go to my school. At around 8 o'clock, I would go to have breakfast with my host family around the table which consisted of sweet milk tea and 'dahl bat'; which is rice and dhal and usually accompanied by a curry vegetable and some ghee. I would be so full after this! My host family was really nice, most of the family would be rushing off to work or to take the children to school and they were very close knit and worked together. I would have a chat with my host sister who was recently married into the family and then I would leave to walk to school which was 5 minutes around the corner.
At 8.45 the school day started; we would have assembly outside in the school playground with the children singing the Nepalese national anthem and usually one person is selected to recite a poem, give a talk on something related to Nepalese culture or ask a question that has been featured in recent news topics. There would also be inspection of the children's uniforms and registers. If it was raining we would do this in the classroom but it was usually sunny.
After 9.30am lessons would commence; there were 8 periods in a day, half of which I was allocated to lesson planning in the 'staff room' which was really just a medium sized shed in one corner of the playground where I would socialise with teachers and discuss competition ideas, supervise naughty children or those retaking exams etc. The other four periods I would teach various age groups from 6 years old to 16 years. I was the teacher in charge of most English lessons when I was there, so I taught from the Nepalese text book for half the time, then used my own planned activities and games to engage the children and improve their English speaking and understanding. Sometimes I was also the supply for example if teachers were ill and I taught Geography, Science and Citizenship also and taught them things about English culture and life in London.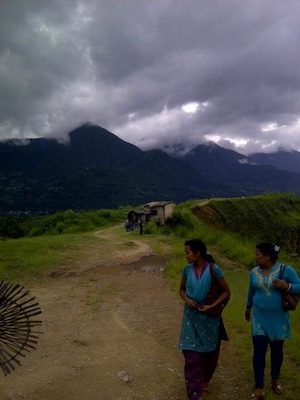 What made this experience unique and special?
Asia: Everyone in Nepal was really loving and kind. I never once met anyone who did not want to help me. My host family were really amazing, if I felt ill they were really concerned and gave me the best care, food and treatment I could have ever asked for. They really treated me like part of their own family and were really generous towards me. The children in the school were also very special, everyday they would greet me on the way to school, during the day, in the playground, after school when I was walking home. The children were very respectful, intelligent and obedient and always wanted to learn more about my culture and my life. The teachers were equally as welcoming and friendly and really embraced me as part of the staff, several of them invited me for dinner and made sure that I never felt alone.
My experience was unique and special because of all the people that surrounded me and supported me in a new situation and I really felt at home. I miss them all very much. It was amazing to see how people with so much less than where I come from are more happy, caring and willing to share the little they had with me. It really opened my eyes to an amazing new culture and increased my understanding of how NGOs work. Also, having the chance to visit Chitwan and see the beautiful Nepalese countryside, having a bath with the elephants and seeing how hard the rural women work was something that will stay with me forever.
How has this experience impacted your future?
Asia: I think this experience has impacted my future, not only in regards to having a the experience of volunteering abroad, but in enabling me to have a greater understanding of a different working environment, culture and alternative lifestyles. It has also given me useful knowledge of how NGOs work and how they develop their projects, funding and different initiatives. This is something that I am interested in, as I would like to work on making NGO projects more efficient in the long term, I also have many interests in education and environmental conservation; which was partly encouraged by all the natural environment I enjoyed during my travels.
This experience changed the way that I analyse aspects of development initiatives as part of my degree and has given me a more global outlook in what I would like to achieve in the long term. It has also given me a wide network of new friends and I believe the experience has been pivotal for me, in shaping some of my future goals in relation to International Development and the conceptualisation of other cultures. I now see it as much more of a reciprocal process. Personally, it has made me much more appreciative of the little things in life; I lived in a developing country under very basic conditions. But everyday I could look out of my window and see beautiful mountains and walk to work seeing smiling faces. It has definitely made me less materialistic and more conscious.