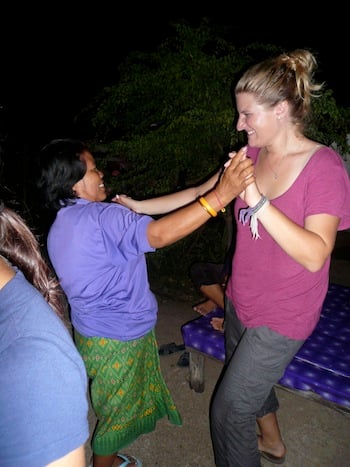 Why did you decide to study abroad with CIEE?
Sara: I decided to travel with CIEE because it made a trip that would seem so out of reach very accessible. Europe is easy to get back to after college, but traveling to a developing nation offers so many more opportunities for learning in the areas of human and environmental justice.
What made this study abroad experience unique and special?
Sara: The staff made this program, whether at the program center or in the village, the staff where always there for support and humor. There is a fantastic mix of U.S interns to assist in the process of culture shock, incredible Thai teachers to help teach the language and etiquette, and a great staff of translators and peer tutors to make sure your Thai and time is enjoyable.
How has this experience impacted your future?
Sara: After my experience in Thailand, I was able to take what I had learned and applied it to my anthropological career. I was able to present work at the American Anthropological Conference and secure awards and funding for further study after graduation.
Highlights: A highlight of my time in Thailand would be traveling to a forest village that had been flooded on a retired army caravan truck. We plowed through the flood plains and made it to the village where we swam in a flooded banana field. That night we spoke with the village leaders and discussed politics, philosophy, and Marxism with them followed by a group sleep over in the community center in 10 different mosquito net tents.
Morning: A typical day with the Development and Globalization program in Khon Kaen Thailand has two very distinct styles depending whether we are on a unit trip visiting the villages or in Khon Kaen at the CIEE center.
A typical day on unit begins with a 7 a.m wake up by the rooster outside or by the chanting from the temple. Soon your host family throws you in the shower and you get ready for the day. By the time you're dressed, you eat a delicious meal cooked by your host mom or grandma, normally of eggs and vegetables. You eat on the floor on rice mats and with your hands, and talk about the plans for the day in the Thai that you have learned since being in Thailand. By this point, friends of the host family have stopped by, normally with another CIEE student tagging along. As a large group, you pile into the back of a pick-up truck and head to the fields where your family works, whether it is a rice field, sugar field, or rubber tree field. You try to assist in the field as your host family laughs and help you learn the tricks of the trade, but really your rice harvesting skills are at a minimum.
Afternoon: In the afternoon, your host mom cooks lunch and you eat looking over the fields. The truck comes back and soon takes you to a temple where you see all the other students from your program. You and the other students circle up with the host families and NGOs of the area and the exchange formally begins. You ask questions about their problems, the gold mine nearby, the loss of land they have experienced, where they see their community in five years, or how they are working to fight their problems. After two hours of discussion, we say good-bye to each other and pile back into our pickup trucks and head to our village home with our host families again.
Evening: The evening is the time for your second, if not third, shower of the day; in Thai culture, showering is a sign of relaxation. You get re-dressed and sit with your host siblings in front of the T.V to watch your favorite Thai soap opera. Grandma is normally back and lounging next to you and her grandkids. Your family surrounds each other on the rice mats again for another meal. This time with a sweet desert rice made with coconut and sugar. You laugh and take pictures, maybe even learn a Thai handshake or jump rope game; then are off to bed after saying sweet dreams to one and other, to start another exciting day in the village tomorrow.