Why did you decide to volunteer with OG in Peru?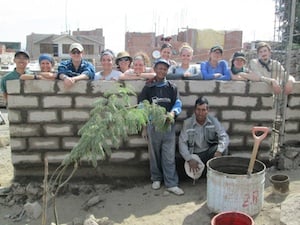 Colin: I found out about OG through my archaeology prof at Memorial University and right away it intrigued me. At first I was unsure what trip I was most interested in, but with some research Peru took the cake! It sounded like too good of an opportunity to let it pass me by, so I just decided to go for it.
Describe your day to day activities as a volunteer.
Colin: During our volunteer project we would start the day off nice and early with a cup of tea, some fruit, and our soon to be favorite breakfast snack, cereal covered in drinkable yogurt. After we ate we double checked to make sure we had the gear we needed for the day, then went for a short walk through the streets of Arequipa to make our way to the bus station. These buses were always extremely cramped and being 6'3", it was sometimes quite the game of Tetras to fit the whole crew on board. Never without a laugh!
When we arrived at the volunteer sight we were eager to find out what was in store for the day. Our project included building a privacy wall and a new housing unit for a local man. His living conditions were not ideal and with every batch of cement mixed and every brick laid it was a great feeling to know we were making a difference. This did not come without hard work! At the end of each day some of us had blisters or cuts, sunburns, sore joints, covered in dirt without a doubt, and a smile on our faces. The hospitality and help from locals we received each day was astonishing and it was easy to see that our hard work was appreciated.
What made this experience unique and special?
Colin: This project felt so special to me because of the people I had at my side. The entire trip was fantastic, but it truly does make a difference when you're with the right people. And every member of our OG crew felt like a necessary aspect of the whole. We were all different, from varying backgrounds and ages, but we all got along like old friends. And that's really something.
How has this experience impacted your future?
Colin: I have always known the world was full of diversity, beauty, and culture, as well as people in need who can really use our help if we can offer it. Even though I was only in one country, I caught a glimpse of just how big this world really is.