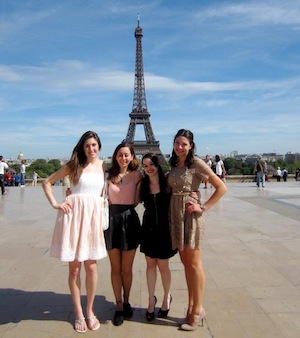 What was the highlight of your time abroad?
Nora: The academic highlight was definitely the field trips around Paris involved in each class. My art history class visited a different museum every week and my other classes took trips to various places around the city. My favorite thing about the IES classes is how much you get out of the classroom and immersed in the local culture. They really encourage students to explore and not get stuck just doing tourist things. The IES field trips available to all of the students are definitely a must. We traveled to Versailles, Normandy, a few other castles and the Champagne region. These trips are free and a meal is often provided, which is great. Being able to see other parts of France added to my experience.
Overall, my experience was life changing. I arrived in Paris with an open mind and I was able to make the most of my time there. Paris is an amazing place but if you arrive with the wrong attitude it won't matter. It was incredibly rewarding to live in another culture, speak another language and make so many new friends. I left with a much better understanding and ability to speak French and even made friends with some locals. I think my experience was so successful because I knew I had limited time there so I never wasted any time. If I wanted to do something and my friends didn't, I did it by myself! Of course I took time to rest too but living in the moment helped me have the time of my life.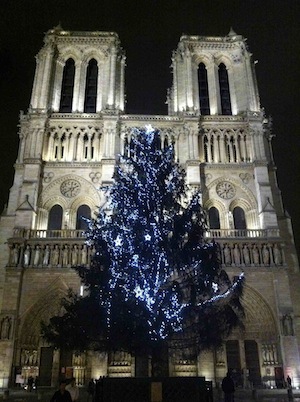 Describe your typical morning?
Nora: My typical morning included breakfast provided by my host family, usually fresh baguette with jam, butter or honey and tea or coffee. Then I would ride the metro to the IES center and have class until about 12 with a break. Class time was spent differently depending on the subject, but most classes are small so there is a lot of discussion. Not all classes are simply lectures. In my France and Islam class we had presentations and debates, which was an interesting way to examine the material. After class I usually got lunch at one of the cafés or boulangeries near school, they have inexpensive sandwiches and pastries and usually lunch deals for students. The 14th arrondissement where the IES center is located is a great neighborhood, with markets and restaurants and a lot to do.
What about your afternoons?
Nora: In the afternoon I would typically walk around a neighborhood, sometimes in the direction of home. The IES center is very near to the tour de montparnasse and close to the 5th and 6th arrondissements, which include areas like the latin quarter and st germain-des-près. I would shop or just explore with a few friends and if it was cold or rainy I would go to a museum. Afternoon café stops became a routine, either alone to write postcards or read, or with friends. When the weather was nice most of my afternoons were spent in one of the many parks around Paris. The jardin du Luxembourg and the Champ des Mars are two of my favorite spots.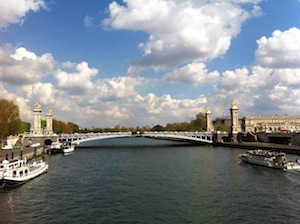 And evenings?
Nora: My typical evening I would do my school work and then three nights a week I would have dinner with my host family. Dinner with them was always a multi course meal with a salad, main dish and dessert. I tried a lot of new foods but they never expected me to eat something I didn't like. It was great to practice my french at the dinner table, talking about my day, friends, and school. When I didn't eat with them, I would prepare a simple dinner for myself, usually pasta or prepared food I picked up a the store. After dinner I would finish my homework and then depending on the day maybe go out with my friends to a bar or café at night. There are always people out at night in Paris, making it safe and fun. The beauty of Paris at night is completely different than during the day and I would often take walks with friends and see things like Notre Dame and the Eiffel Tower all lit up.