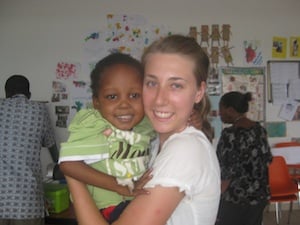 Why did you decide to volunteer with United Planet in Tanzania?
Emily: Volunteering in Africa is something I have dreamed of doing for years. United Planet was the organisation I discovered via internet research which would actively help me to achieve this dream. Each year United Planet has a list of projects, with a variety of countries to choose from, allowing you to go all round the world. With my friend Lucy, we chose Tanzania because of its relative safety, high need for outside help, and its projects, which greatly appealed to us. Ultimately we chose to work in a Children's Cancer hospital, teaching English and Maths as well as entertaining the children.
Describe your day to day activities as a volunteer.
Emily: We worked from 9am to 2.30pm, traveling to work from our homestay using the 'Dala-dala's' (crowded minibuses) took about 1 hour. The morning would begin with singing and dancing, both in English and Swahili. It was great to see how happy the children were to come to school, it was a break from the monotony of the wards above. At around 10am we would spread mats across the small room and get out a pile of old books. The children were mostly from ages 3 -14, with a few older ones aswell. We had 3 teachers and a wide range of knowledge and ability, so volunteers were extremely useful as the children could work in smaller groups. The younger ones just played games, or recited the alphabet etc, while the older ones were divided up with teachers and volunteers, for a couple of hours of learning of their allocated topic. Some of the children were great at English and were happy to translate, but many of the children only understood Swahili and their local tribal language. Lucy and I quickly learnt the swahili numbers and got very good at teaching the children maths!!
After lessons we would distribute some donated snacks such as fresh fruit, biscuits or juice which was well received. The number of pupils varied depending on who felt well enough to attend, so if there was a quieter day, some of us would take a box up to the wards and entertain some of the sicker children; practising our swahili, colouring, puzzles, or for some of them offering a maths quiz. Back in the classroom there was always a creative activity, before letting the children to rest in front of a movie while we cleaned up.
What made this experience unique and special?
Emily: This trip was something I will remember forever!! The United Planet representitives, our host family and the teachers at the hospital school were all so kind, and helped us to feel welcome in their country. We felt like we were making a difference, either by brightening up someone's day with a simple game, or helping them to understand school work which will help them in their future. Everything about Tanzania was fascinating as its so different to home, and we were glad to have a good amount of free time to explore the many markets and sights of Dar Es Salaam, as well as go on a safari at the completion of our service.