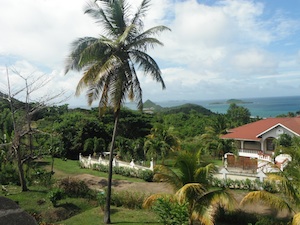 Why did you decide to volunteer with Ocean Spirits in Grenada?
Wendy: I wanted to do something different for a holiday. I thought volunteering abroad would be a great way to do something worthwhile and enjoy new experiences in a different country. I love the sea, sunshine and being near or on a beach so the choice had to involve these things. Having read about Ocean Spirits online and the beautiful island of Grenada I was totally sold. The island is beautiful, the people are friendly and the turtles are absolutely amazing.
Describe your day to day activities as a volunteer.
Wendy: The staff at Ocean Spirits tried to vary your day to day activities so that you could have plenty of free time to explore the island and enjoy the sunshine. The activities include various turtle related activities, chores around the living accommodation and fun trips to things like fish Friday or snorkelling and BBQ on Sandy Island. The turtle related activities are things like morning survey – getting up before dawn can sometimes be a struggle but the sunrises and seeing turtle tracks in the sand is always worth it. Night surveys are the main time you get to see turtles – when they came ashore to nest. You also get involved in beach surveys which monitor the sand and vegetation movement on Levere Beach where the turtles nest. The chores aren't that bad and are shared amongst the volunteers on a rota basis so it only takes an hour or so at most and not every day. You are also expected to take a turn cooking for everyone and this is done in pairs. With some volunteers, this can be interesting but everyone mucks in and helps each other.
What made this experience unique and special?
Wendy: For me the whole experience was unique and special. I had gone through a bad period in my life and wanted something to reaffirm the positive side of life – spending time on Grenada in the sunshine did that for me. The turtles are amazing creatures and to be able to get so close to them is just so cool. The extra special part for me personally was being able to tag and name a new turtle after my mum. I loved meeting the other volunteers even though I was the oldest – I had thought I wouldn't fit in but everybody mixed and got on well together.
How has this experience impacted your future?
Wendy: For me, the experience has been a huge impact on my life. My time in Grenada gave me lovely memories and many new friends. The turtles and the way of life in Grenada are so different to my own in the UK. An experience like this makes you realise there is a whole different world to be explored and if you get the chance, you should definitely take it no matter what your age. I'm glad I was impulsive enough to take the chance on the trip.