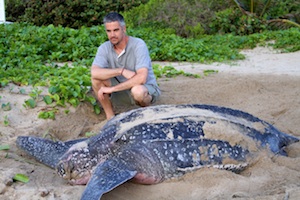 Why did you decide to volunteer with Ocean Spirits in Grenada?
Ken: I have volunteered on several sea turtle projects in the past, working with Leatherback, Green, Hawksbill and Olive Ridley turtles, but with Leatherbacks being my favorite. I was searching projects in the Caribbean that would have a relatively high number of Leatherbacks nesting. Both Grenada and Trinidad & Tobago were places that I researched. I decided on Ocean Spirits because they offered plenty of hands on experience, the web photos of the area were beautiful (though pictures are not able to capture the true breath taking beauty of the place), and it was easily accessible for me.
Describe your day to day activities as a volunteer.
Ken: The volunteer's activities varied from day to day. The supervisors would post a rota, or rotating daily schedule of each person's job, or jobs for the day. The rota of jobs would include the night beach schedule of turtle tagging and data collection, prepping the necessary equipment for the night survey, an early morning beach survey that involved counting the nesting turtle tracks from the night before (on a different beach from the evening work), house or vehicle cleaning and kitchen duties as the evening dinner's chef or sous chef. Obviously the main job was the night work on the beach, which is the most rewarding but also tiring. Everyone gets varying nights off from the evening beach duty and the schedule is designed so there gets plenty of rest time between duties.
The daily house jobs were relatively short in time and easy to accomplish. There was always plenty of free time for swims at the beach, a mountain hike, an organic chocolate factory or rum distillery tour, trips into town for shopping and a delicious fruit smoothy, as well as time for book reading or card playing with the staff and other volunteers in the shared house. Ocean Spirits also offered a fun day out to a small uninhabited island that featured a cook out lunch of local cuisine and some good snorkeling. On another day we took a trip to a National Park for a hike to a high waterfall, with a refreshing swim at the base of the fall. Once you completed your job for the day, there was always plenty of choices for activities, or having the option to just kick back and relax.
What made this experience unique and special?
Ken: What made this particular experience was unique to me from my other sea turtle volunteer work, was the close camaraderie of the staff and volunteers. We lived, worked and played together. The work on the beach with these giant, primordial Leatherbacks was greatly rewarding and inspiring. Having like minded people with me, sharing this experience, made it extremely enjoyable.
How has this experience impacted your future?
Ken: This experience has added to my desire to continue to seek out various volunteer projects, especially with sea turtles. I recently attended the International Sea Turtle Symposium for the first time, where I made contacts with various sea turtle researchers and conservationists. While I'm always looking for new places to go and different experiences, part of my heart is in Grenada and with Ocean Spirits. I definitely plan to return to Grenada sometime in the near future, so I may work with the Ocean Spirits group again.