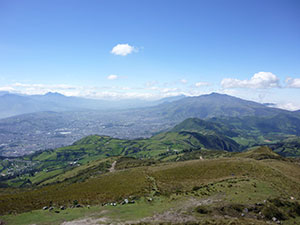 Highlights:
Volunteer highlight: The highlight of my trip was definitely getting to know the kids over my three month stay. Seeing the difference in their responses to you over an extended period of time was so rewarding. It was great coming to work every day know the kids´ names, where their market stall was, how they worked, what they had difficulties with, what they enjoyed...it did however make it that little bit harder to leave them!
Overall highlight: Climbing volcano Cotopaxi. While I didn´t hike to the summit - I just did the day trip - it was undoubtedly the most amazing experience! Red volcanic dirt, an amazing glacier, snow, and mountain biking down to the lake at the bottom of the volcano with great friends made for a fantastic day. Attending a wedding of our Ecuadorian family is also a great memory for me.
Morning:
Work would start every morning in the office at around 9am. Early in the week we would have a meeting to discuss the weekly objectives and activities that the children would be completing, before catching the bus to the market for that day. Once we had arrived we would set up the tent, fetch clean water for washing the kids' hands and faces and put out the toys. Some volunteers would then head out with the staff to collect children from their parents' market stalls while the others remained behind to play with each child he/she arrived. After play time we would split up into 3 groups based on age, when we would complete various activities, often related to numbers, colours, shapes, gross and fine motor skills or more advanced mathematical activities for the older children.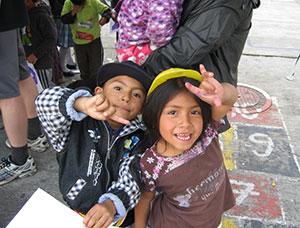 Afternoon:
A typical afternoon varies depending on your schedule. You may stay in the markets to repeat the morning schedule with the market children. Alternatively, you may return home for lunch before taking afternoon Spanish classes. The Spanish program is very well run, with one-on-one classes and great prices, much cheaper than what most volunteers would find in their own countries.
Evening:
The evenings for most volunteers are very relaxed. After a long day at the market, often it is enough to come home, have dinner, chat with the other volunteers before a relatively early night. During the weekends many choose to go out for dinner and a drink in town, which is a great way to get to know the other people you are working and living with, and share your experiences.